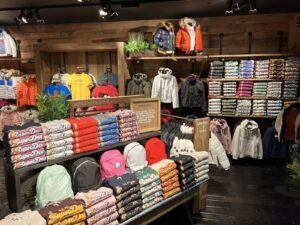 Premium apparel brand Superdry opens its 3,500 sq ft store on Icon Outlet's upper level
Sales at Icon Outlet up 54% over the Bank Holiday weekend and 28% in June to August
Icon Outlet at The O2, a London outlet shopping destination, developed by AEG and Crosstree Real Estate Partners, has announced the opening of Superdry, the premium apparel brand. The opening coincides with a record-breaking summer trading period across The O2's Entertainment District and Icon Outlet.
Superdry has opened its 3,541 sq ft anchor store on Icon Outlet's upper level and forms part of the brand's expansion in the outlet sector, with Icon Outlet marking the brand's second outlet store in London. The new store stocks the brand's authentic apparel collection alongside a full range of accessories, further diversifying the destination's retail line-up. The brand's Icon Outlet presence adds to Superdry's global presence with over 740 stores in 61 countries.
Danny Grimshaw, Head of Retail for UK, Ireland and Outlets at Superdry, commented on the opening: "As we are a British brand, it's great to be opening in such an iconic shopping destination, which offers both incredible leisure and strong retail business. Icon Outlet at The O2 is the perfect location to expand Superdry's UK outlet store collection, as well as increasing our presence within the capital. We are continually determined to allow more people, in even more destinations, to access our brand."
The opening coincides with Icon Outlet and the Entertainment District's continued strong performance as part of The O2's full day-out destination offer. Sales at Icon Outlet were up +54% over the August bank holiday weekend versus 2019, with the Entertainment District posting similarly strong results. The success follows a consistently strong summer trading period, including a record-setting July. Icon Outlet sales across the June, July and August period were up +28% versus 2019, while sales in the more than 30 restaurants, bars and leisure venues that comprise the Entertainment District increased 56% on 2019. Overall, footfall across the venue has grown by +28% versus 2019.
Louisa Dalgleish, Leasing Director at Icon Outlet at The O2, added: "The opening of Superdry is another key milestone for Icon Outlet in 2022. It has been a pleasure to work closely with the team on this launch as the new store provides our dedicated and loyal consumers with yet another fantastic option for all occasions, as well as appealing to a younger demographic. It is great to see a brand like Superdry endorsing the importance of outlet locations, particularly off the back of such a strong summer trading period. There is no doubt Superdry will be a huge success, especially given its such prominent location in Icon Outlet."
CBRE represented Icon Outlet at The O2 and Superdry dealt direct.