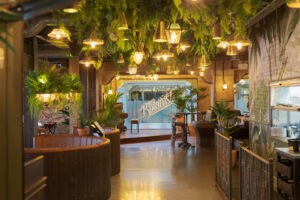 The Botanist will move into St Andrews Hall at St James Quarter in Edinburgh, taking 11,400 sq ft of space
St James Quarter, the 1.7 million sq ft retail-led lifestyle district in Edinburgh, has let 11,400 sq ft of space in St Andrews Hall to New World Trading Company (NWTC) to open its award-winning brand The Botanist.
Renowned for lavish botanical themed interiors, world-famous quirky cocktails and signature hanging kebabs, The Botanist will bring an immersive new experience to Edinburgh at what will be its first location in Scotland, in the spectacular St Andrew's Hall, a grade B-listed building overlooking Leith Walk.
Doors are expected to open later this year, although an exact opening date is yet to be confirmed.
Ed Corrigan at St James Quarter, commented: "The Botanist is a landmark signing for us, and this is reflected by the flagship location they will be occupying in St Andrews Hall. We've made a concerted effort to bring together a great mix of distinctive and current brands to St James Quarter and The Botanist will further help reinforce the reputation of the development as the definitive lifestyle district in Edinburgh."
Natasha Waterfield, Chief Operating Officer at New World Trading Company said, "Bringing our unique concept to Scotland for the first time is hugely exciting moment for the business.
"Finding the right space in any location is paramount and St James Quarter is an innovative development that aligns with our brand and proposition. We can't wait for the residents of Edinburgh, as well as the many tourists that visit the area, to experience our one-of-a-kind offer at The Botanist."