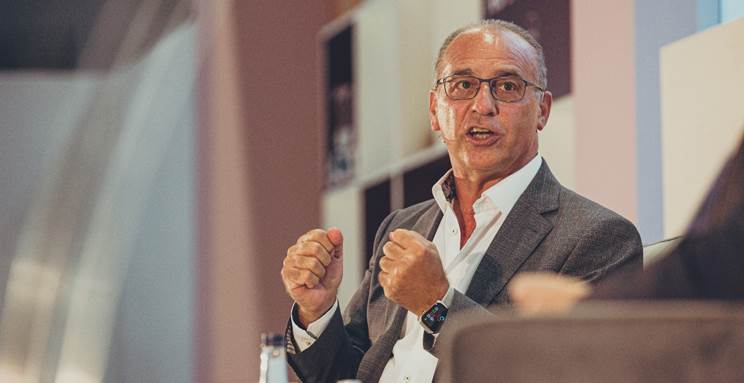 Spring Fair, the UK's wholesale marketplace for home, gift, and fashion, taking place from 5th– 8th February 2023 at NEC Birmingham, has announced the Inspiring Retail Stage content programme which delivers a schedule packed full of incredible speakers including Theo Paphitis, as well as inspiring and informative insights, awards, plus the essential home and gift trends for 2024.
Created as a platform to champion retail, the Inspiring Retail Stage's full schedule of live content will kick off on Sunday 5th at 11am with 'Do you know which key numbers will help you grow your business? Five Crucial Figures You Need to Know to Boost Your Business In 2023' by Forbes.com contributor and small business retail expert Catherine Erdly.
With sustainability remaining top of the agenda, highlights also include 'A Disruptive New Model for Corporate Sustainability and ESG' with former UNESCO special envoy and managing director of Element Four, Georgia Elliott- Smith at 12.10pm who proposes a model of disruptive sustainability that challenges the status quo and embraces activism. At 1.20pm, John Pearce, CEO of Made in Britain then brings together a stellar panel of speakers from leading British manufacturers including Dartington Crystal, Petra Palumbo and Little Soap Company to examine the latest innovations in sustainability messaging, as businesses step up to the increased demand from buyers, retailers and consumers for information about the environmental impact of goods.
Day one closes with a few drinks at 5pm and a celebration of UK retail and the businesses that are making a difference. In partnership with Modern Retail, Spring Fair host the Good Retail Awards for the fourth year, recognising the good practices in UK retail and sharing the successes in all areas of retail. From High Streets who are supporting their local businesses, to businesses that are transforming their operations to put sustainability at the core, to businesses the ooze creativity, the winners will be announced from 5pm.
On Monday at 11am the stage welcomes Retail Expert Jonathan de Mello for 'Retail State of Play: Market Overview', as he walks us through key market insight into the current retail landscape, including the cost-of-living crisis and its impact on the retail sector now, and over the next few years, current winners and losers in retail, and what we can learn from them, the travails of the online pure plays, and retail trends such as fashion rental, metaverse, ESG.
At 12.10pm, TrendBible delivers its 'Trend Update: 2024 Home and Lifestyle Trends'. During this must-see trend presentation with Trend Editor Wendy Lowe, TrendBible uncover how householder behaviours and lifestyle choices are set to underpin product and design trends for the home over the next 12 months and beyond. The cataclysmic changes we've seen – a clash between dramatic changes in technology, the economy, society, and the environment – will impact home life as it needs to do and be so much more for the modern householder. Home is the place to heal, escape, deal with the realities of domestic life, and helps us shape our many fragmented moods and mindsets.
Josh Pitman, Managing Director of Priory Direct-Planet Friendly Package follows with 'How To Minimise the Environmental Impact of eCommerce, With the Ultimate Goal of Making A Fully Sustainable Industry'. For visitors keen to learn 'How to Sell on TikTok' don't miss Therese Oertenblad, Founder of Small Business Collaborative, and Elizabeth Stiles, Fashion & Textiles Brand Consultant as they share their top tips for selling on TikTok with soul in order to grow your community and sales. They will speak to an independent retail buyer about what's working for them and share tips on how they can get more from the platforms.
TrendBible opens the stage on Tuesday morning at 11am with another insightful 'Trend Update: Celebration and Gifting Trends for 2024'. Against a backdrop of global unrest and financial crisis, celebration offers the respite so desperately needed. An escapist desire dominates but is coupled with a search for authenticity. This drives a fresh and honest take on who we are, what we want to celebrate and how. Join TrendBible as they provide vital insight into the key trends impacting consumers and the opportunities which will elevate your celebration, occasion and gift ranges to new levels.
For budding podcasters, join Alex Ryan, marketing mentor and BIMM Institute lecturer for 'Zero to Podcaster in 30 Days', and then stay put for 'The Department for International Trade: Made in the UK, Sold to the World' panel discussion. Hear about DIT's campaign, championing the UK's priority sectors through an innovative, localised marketing campaign that will promote the best of British goods and services in our towns and cities and the support that DIT can offer to access overseas markets.
At 2.30pm don't miss The Sun's Business Editor Ashley Armstrong as she hosts an 'In Conversation With Theo Paphitis', retail entrepreneur and TV dragon. In what is a challenging time for business and retail, high street hero Theo Paphitis will delve into some of the current challenges facing businesses across the UK, as well as the opportunities that can often arise out of tougher trading conditions.
At 3.45pm Helena Mansell-Stopher, CEO at Products of Change leads a panel discussion on new packaging legislation, how it impacts the retail sector, and how to embrace the new wide-ranging packing requirement challenges. At midday on Wednesday, Steve Manser, Head of Marketing at DCUK hosts a session on 'Child Mindset Marketing: Are you Kidding?' Following on from the previously popular Magic Marketing and Mindsets series, this is an engaging session all about the very best child-like traits, attitudes, and approaches that we should be encouraging in ourselves, and our colleagues. Steve will outline some of the very best (and most fun) ways that we can all learn some great marketing, selling, and business tips from the little ones. The session promises to be enjoyable, interesting, and thought-provoking. And best of all, accessible for everyone with some clear take-aways.
The latest Inspiring Retail Stage programme can be viewed at Spring Fair 2023 – Spring Fair 2023.
Register at https://www.springfair.com/visitor-registration
Share this story