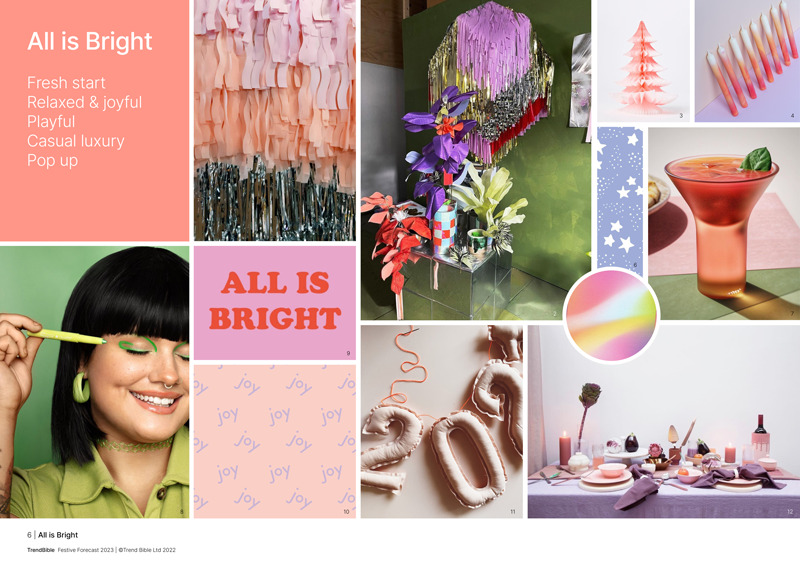 Spring Fair, the UK's leading marketplace for wholesale Home, Gift and Fashion which returns to the NEC Birmingham NEC from 5th – 8th February 2023, has collaborated with its trend agency partner TrendBible on an insightful new trend report delving into the trends for Christmas 2023 to aid retailers in discovering how consumer lifestyle shifts will impact colour, design, and product trends for the festive 2023 season.
The free trend report, available to download at TrendBible – Spring Fair 2023 looks at the deep and long-ranging implications of the pandemic meaning that celebrating and being together with loved ones is a top priority for the holiday season in 2023.
Naomi Pollard, Head of Publications, TrendBible says, "Being together is what matters most. An opportunity to put fun and togetherness at the heart of Holiday season, which allows us to embrace
somewhat imperfect – but utterly joyful – aesthetics that send a clear message of creating a relaxed spirit. Intimate moments and real connections are the focus whether there are two or twenty people around the table. Even spending time in deep solo contemplation is necessary this season, with so much collective trauma to process."
Offering a sneak peak of the TrendBible trend forecasts due to presented live on the Inspiring Retail Stage at Spring Fair in February, the report focuses on All is Bright, a joyful trend driven by hope for the future, healthy boundaries, fresh starts and a desire for change. 'Time well spent' is reassessed, with individuals looking to be liberated from rules and traditions; instead choosing to spend time in a way that brings happiness.
With consumers making conscious choices to encourage wellness, being present to experience things more fully over the holiday period becomes a key motivator. The rise of zero-proof spirits and quality low-alcohol beers have seen the non-alcoholic beverage market soar, with sales rising to $3.1 billion from $291 million in the US (Nielsen, 2021). Vegan diets or alternative 'festive' meals are embraced as people get comfortable with going against the traditional norms.
More thoughtful choices also influence decor for the season. 'Party to rent' options have increased with companies such as LAY London offering ready to hire, Instagram perfect, tablescapes. While still celebratory, this trend rejects 'throwaway' culture, focusing instead on decorations that bring joy way beyond the New Year or can be reused year after year.
Colour Combinations for this fresh and vibrant palette signifies a fresh start as we look towards the coming year. Ceramic and clay decorations are painted in pastel colours with simple decorative patterns. Glittering and metallic streamers can be left up to enjoy after the holiday. Use in bold and bright colours to add a joyful energy to the home. Long tassels trims create luxurious, contemporary Christmas stockings Christmas decorations are more minimalist in style; advent candles in fresh colour combinations and simple typographical prints.
For the full report please visit TrendBible – Spring Fair 2023.
As the largest and most accessible "shop for shops", Spring Fair is the UK's trusted platform for discovery and innovation, putting the most sought-after products, bright new finds, and industry-leading creative thinkers, under one easy-to-navigate roof whilst giving retailers unparalleled cross-buying opportunities.
Spring Fair encompasses 14 sectors within four destinations across 8 halls – Home which includes Living & Décor, Housewares, Everyday, and The Summerhouse, Gift including Christmas, Floral and Seasonal Decorations, and Moda fashion featuring its own Catwalk as well as Jewellery & Watch, Womenswear, Fashion Accessories, and Footwear, and the newly launched responsible sourcing show Source Home & Gift – all offering thousands of much loved and established favourites alongside an array of sustainable and new brands showing for the first time. The show creates a compelling and unmissable platform for buyers to touch, feel, and experience the latest products, trends and innovations.
As the buyers one-stop marketplace for everything new and on-trend for 2023, Spring Fair is the leading home, gift and fashion buying showcase. It runs from 5th – 8th February 2023 at NEC Birmingham. For further information please visit www.springfair.com
Share this story