New 'Pay-by-the-hour' adaptive retail space opening in Livat Hammersmith; the new and improved Kings Mall
Supported by the Ingka Centres
Driving change in the UK high street and supporting the local community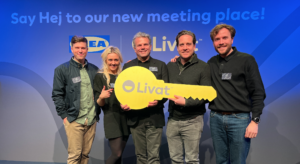 Sook, the flexible retail space company, is opening an innovative new store in Hammersmith; with an aim to support the local community by providing affordable access to an exciting new destination designed for people to meet, connect and shop. It has partnered with meeting place giant Ingka Centres, which is opening Livat Hammersmith; its first meeting place in a downtown location.
Adaptable to suit brands of all kinds, Sook Livat Hammersmith opened its doors on the 24th February to offer a new way for visitors to access a multitude of businesses; from a new concept clothes store to an immersive exhibition, or an online-only small company trialling its first physical space.
These spaces are the way forward for the UK's high streets, offering brands big and small the opportunity to trial a physical space at a time that is right for them and their customers. Sook champions entrepreneurs and local companies and is democratising the high street by providing access for all, challenging the retail status quo.
Ingka Centres shares the Sook vision and will be using the space throughout the year to offer new experiences for visitors.
John Hoyle, CEO and Founder of Sook, said: "The high street needs change and this is the way to do it. Hundreds of thousands of businesses started last year and deserve the chance to showcase what they do in prime retail space without extortionate costs preventing them from even trying. Our new space in Livat Hammersmith will offer the community a place to meet and design as they want, whether that's a coffee shop or an exhibition centre. The borough of Hammersmith and Fulham is a vibrant and innovative area of London and we want to champion its individuality. Giving businesses a chance to co-exist and collaborate will help strengthen the area and reflect the needs of the Hammersmith community. Sook wants to drive change in UK high streets and build successful, diverse, local places."
Natalia Petelina, Livat Hammersmith meeting place manager, said: "At Livat Hammersmith, we are creating a destination that has a positive impact on people, the planet and the local community and we're excited to be partnering with Sook to help us realise that vision. We know that real life needs places where people can come together, and we are changing to meet the needs of the people of Hammersmith – with a place where they can not only shop, but spend time, socialise and enjoy new experiences."
Setting up a Sook space is both easy and simple. It provides an online design tool and 'digital wallpaper' so brands can design their spaces at the click of a button. It's data-driven insights can help customers make an informed decision about the best times to open.
The new Sook Hammersmith space can be found at King Street, London, W6 9HW.