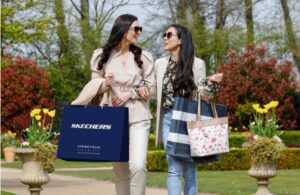 Skechers are increasing the size of their outlet by 107% from 2,048 SqFt to 4,241 SqFt to satisfy ongoing growth in demand
Springfields continues to deliver record results across all segments
Currently trading up 14% versus pre-Pandemic and Spend Per Visitor is up 25%
The unique mix of outlet and leisure, in stimulating green open spaces, continues to attract more footfall and drive Springfields' relentless turnover growth
Springfields Outlet and Leisure goes from strength to strength enjoying 16 years of growth. Sales are ahead in all segments from Fashion, Footwear and Accessories to F&B, Homewares and Jewellery.
Skechers is trading exceptionally well month after month as it taps into the heart of what people want; comfort and fashion combined. This new store will be a completely new fit-out in keeping with Skechers latest designs and will stock many more ranges for all age groups and all seasons.
Throughout Springfields, guests are enjoying the combination of wide-open spaces, gardens and excellent retail therapy. A perfect day out.
Conceived, developed and asset managed by SLR Outlets for the UBS Triton Property Fund LP, Springfields gives everyone what they want, with a perfect shopping experience set in an uplifting healthy green environment. A great mix of sensory experiences coming together to deliver positivity and enhancing visitors' mental health.
"Springfields is the perfect day out with a superb range of outlets and leisure, satisfying every age group from near and far. This year's ongoing growth sets us up for the opening of Phase 3 next year with its 16 new stores, restaurants and cafés", said Ian Sanderson, Director of Springfields Outlet and Leisure and SLR Outlets.