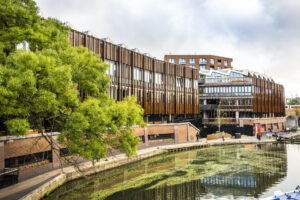 LabTech has announced the addition of six more independent F&B brands at Camden Market Hawley Wharf, one-third of the LabTech Camden ecosystem, alongside the iconic Camden Market and sustainability-led Buck Street Market.
Camden Market Hawley Wharf, which officially opened in August, now houses over 30 independent food and beverage operators, bringing a myriad of new flavours and worldwide cultures. They combine with a growing leisure proposition – including the soon to launch Curzon cinema – and over a dozen unique retailers to create a complete 'eat, shop, play' destination.
Joining the already extensive offering at Camden Market Hawley Wharf is 2 Lads Kitchen, the Afghan street food brand which provides an authentic take on the nation's favourite dishes. This includes its iconic Afghan Wrap, featuring 24-hour marinated chicken thighs and black pepper yoghurt, and barbecued chicken skewers wrapped in fresh clay oven naan. Chingon – from the creators of Hotbox London – has also joined the destination, celebrating the vibrancy of Mexican street food, alongside Mikos Gyros, the fast-casual Greek brand, and Pakistani cheesy, filled naan specialist Khaoo.
The Great British Cheesecake and Longboys are adding to the sweet offer, with the former creating luxury homemade cheesecakes, and the latter producing long doughnuts with surprising flavour twists, from celebrated pastry chefs Graham Hornigold and Heather Kaniuk.
Commenting on the signings, Jonny Perkins, Retail Asset Manager at LabTech said: "Camden Market Hawley Wharf has become a diverse arena for all types of food, celebrating culinary culture and emphasising its position as a go-to destination to experience something new and exciting. We are proud to be working with these operators, helping them become a part of the Camden community or expand their presence here, while giving them exposure to the area's amazing visitors."
Zia Haidari & Gul Ahmad, Founders of 2 Lads Kitchen, said: "Camden has a really diverse food scene, so we're excited to bring a little taste of the Afghan streets to the streets of North London. We've felt so much love from Londoners over the past 2 and half years, and it's always been our dream to have a permanent base where people can come and taste the flavours of home – we're glad Camden Market Hawley Wharf is that new home".
Other F&B operators to have joined Camden Market Hawley Wharf recently include:
Camden-born seafood specialists Shrimpy
Internationally-inspired Bang On Burgers
Duck Duck, traditional confit cooks
Modern Greek food experts Kalamaki Street
DZRT, where fine dining meets sweet treats
Chicken and beef burger purveyors, Buk
Pan Asian classics from Zen
Hola Guacamole, serving Mexican street food
Colliers and CBRE represent Camden's Hawley Wharf.