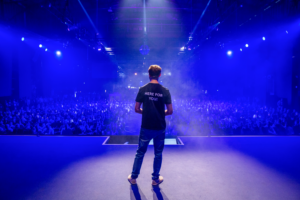 Tickets for hybrid event now available
Shopware AG has announced that Shopware's flagship event, Shopware Community Day (SCD) will be returning as an in-person event on May 25 2022, at the Tobit Campus in Ahaus, Germany. The event will present the latest tech innovations, crucial market developments and cutting-edge business ideas in the retail and technology sector. The event will also feature top international speakers such as basketball icon Dirk Nowitzki and British darts player Fallon Sherrock.
This will be the first time Shopware Community Day is taking place in-person since the global pandemic, which has been online for the past two years. However, following the success of virtual events during the pandemic, this year's event will also be streamed live online for delegates:
Shopware spokesperson Wiljo Krechting, said: "Due to the pandemic, we were forced to hold the popular SCD twice as a digital-only format. In these two years, together with our speakers and audience, we have created exceptional digital events, driven openness and collaboration and learned a lot in the process. We now want to use this experience to enable our global community to participate in a hybrid SCD."
Limited number of tickets
Attendees can either secure a ticket to the physical e-commerce festival in Ahaus and experience the unique SCD spirit up close or join live from anywhere in the world with a free digital ticket.
The allowance for event tickets is severely limited this year, due to the change in venue. Previous SCD in-person events have been held at the Landschaftspark Duisburg, but this venue is currently being used as emergency accommodation for Ukrainian refugees. A move which Shopware AG wholeheartedly supports. However, the new venue should already be familiar to regular SCD visitors: The impressive Tobit Campus in Ahaus served as a regular location for the SCD up until 2017.
This year, attendees can again expect inspiring interviews and presentations from top-class speakers such as Dirk Nowitzki and Fallon Sherrock. As usual, the program will be spread across three themed stages, so there will be something for every visitor:
The Inspiration Stage will focus on the most important trends and topics in digital commerce today
The Experience Stage is set to be the place to go to learn first-hand about ambitious e-commerce players, from major challenges through to their path to success
The Tech Stage is a dedicated stage for developers to network and learn about the new launches and share experiences from a developer mindset
There will be a networking area both on-site and online so that participants can exchange ideas and make important industry contacts. The event will be rounded off with the legendary SCD After Show Party, with more details to follow soon.
The limited tickets for an SCD Day Pass as well as for the After Show Party are available now.
The possibility to purchase them and further information can be found at scd.shopware.com.