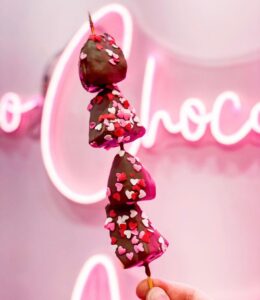 Specialist UK leisure and property agency, Shelley Sandzer, has secured prime Wardour Street sites for two dessert-led concepts. Marking a UK debut, Cocomelt London has selected 132 Wardour Street for their first location outside of the USA, whilst health food café, Acai Berry, is set to open in the adjacent 130 Wardour Street unit, forming their sixth London location.
Currently trading across two locations in New York as Chocolate DIP, Cocomelt London is set to deliver the brand's unique chocolate-themed desserts to a brand-new UK audience. Serving 100% Belgian chocolate themed desserts, including crépes, waffles, chocolate covered strawberries, signature fettuccine and sushi crépes. Cocomelt London will open at 132 Wardour Street in June 2022.
Joining Cocomelt is emerging fast-casual smoothie-bowl café, Acai Berry, who currently operate in Oxford Circus, Carnaby Street, Chelsea, Shoreditch and Notting Hill. Offering health-focused smoothie bowls and drinks with an assortment of toppings, Acai Berry Soho will open later in 2022, adding to the area's diverse F&B offering.
Sarah Jarrah, Co-Founder of Cocomelt London, commented: "We are delighted to have signed for our debut UK location, giving us the opportunity to deliver the very best of our Belgian chocolate desserts to a new, European audience. Our position on Wardour Street puts us at the very centre of Soho alongside many other emerging and established culinary brands, and we're grateful for the advice and guidance Shelley Sandzer have provided in securing this site for us. We look forward to making a splash within London's dessert scene in the coming months."
Nick Weir, Joint Managing Partner of Shelley Sandzer, added: "We are proud at Shelley Sandzer to continually offer international brands the opportunity to make their UK debuts, which has been the case in securing this Wardour Street location for Cocomelt London. Equally, in supporting Acai Berry's growth across the capital we feel we are adding further diversification to London's ever-evolving health and dessert industry, offering consumers yet more choice in the heart of Soho. We are currently pursuing deals for a handful of new and emerging concepts entering the UK, demonstrating how the West End is still an integral part of the capital's F&B scene."
Shelley Sandzer acted for the landlord. Cocomelt London dealt direct whilst Taylor Gershon represented Acai Berry.