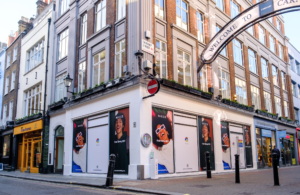 Shaftesbury announces the opening of NICCE'S flagship store on Carnaby Street. The 1,400 sq ft store spans two floors and opens in Spring. It will be located on the corner of Carnaby Street and Beak Street at 57 Carnaby Street. The store will be the first physical flagship store for the London based brand.
Samantha Bain-Mollison, Retail Director Shaftesbury says: "We are happy to announce that NICCE will open their first physical flagship store on Carnaby Street in such a prime location under the iconic 'Welcome to Carnaby Street' arch. We are looking forward to being a part of NICCE's new direction and are excited about the future of the brand."
London, Spring 2022; NICCE has announced the opening of its flagship store in London in the famous, pedestrianised shopping area of Carnaby. At a time of evolution in the NICCE brand, the physical space will allow consumers to engage with the product and experience the brand in real-time.
The flagship store opening is set against a backdrop of strong, double-digit growth over the past few years and continued Global reach through the brands retail partners and online store.
"The opening of our NICCE flagship store in Carnaby is part of our continued investment into direct-to-customer, accelerating the brand's awareness through a priority retail trade zone and providing a space for customer interaction and community building, that remains at the core of our brand values," said Matt Bullock, Chief Commercial Officer.
The space will also host a variety of dynamic events and customer activations, expanding out from the brands N-Studio division, acting as a hub to inspire, support and nurture the NICCE consumer.
2022 marks an exciting time for the NICCE brand, with a new collection and direction set to be unveiled over the next few months.