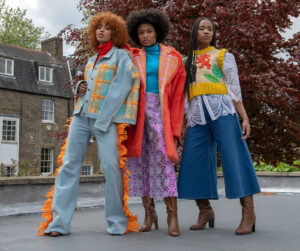 Shaftesbury has announced that four emerging, female-led brands will be awarded individual pop-up retail space in Seven Dials, following an official judging process for its all-new Start Up with Seven Dials initiative.
The competition has been developed by Seven Dials to celebrate and support budding UK brands that either launched or developed their business in the face of Covid-19, by offering the opportunity to operate from the iconic West End retail destination in summer 2021.
Shaftesbury and Seven Dials have also acknowledged the relevance of the winning female-led brands being announced in conjunction with International Women's Day 2021, and this year's theme of #ChooseToChallenge, which encourages inclusive support and celebration of women's achievements.
The four London-based brands were selected from a pool of 30 entrants by a panel of industry experts including Krissy Turner, Shopping Editor at the Daily Telegraph; Tom Bottomley, Contributing Editor at TheIndustry.fashion & Retail Consultant; and Retail Director at Shaftesbury, Samantha Bain-Mollison.
Following Start Up with Seven Dials' extensive judging process, lifestyle brand Tihara Smith has been selected as the official winner. Tihara, a graduate of the University for the Creative Arts Epsom, launched her eponymous label after exhibiting her original Windrush-inspired collection at Graduate Fashion Week 2018. Drawing inspiration from her Caribbean heritage and London roots, Tihara Smith's product range comprises vibrant and distinctive stationery, accessories, gifts and prints, complemented by a customised, made-to-order service.
Tihara Smith will launch in its own prominent retail space in Seven Dials in summer 2021, with full support from Shaftesbury including complete store fit-out and assignment of a personal brand mentor.
Reflecting the high quality of entries, an additional three runner-up brands were selected by the judging panel, to also be granted individual 'blank canvas' retail space and full operational support from Shaftesbury in Seven Dials:
Curated homewares brand Olive Jennings, as founded by designer Amy Harrison-Mason. Olive Jennings will bring its hand-made dried flower arrangements, bespoke room mists and sustainable home accessories to its pop-up space, along with its custom lifestyle and product photography studio offering.
Eco-friendly yoga brand KATI KAIA, will combine the founder, Kati Treble's, own immersive abstract art and creativity with traditional yoga accessories to positively inspire. The pop-up will bring an oasis of calm to visitors with natural, vegan yoga mats, newly launched Mala Jewellery, and a series of holistic workshops and activations.
Billi London, the world's first biodegradable tights, designed in London and made in Italy. Following extensive work on research and prototypes, the pop-up will be an important milestone for Billi London's co-founders Sophie and Marie in changing consumer behaviour towards tights and building awareness for its sustainable alternatives.
All winning brands are a reflection of the Seven Dials community and its brand values including the emphasis on supporting creativity and independent labels.
Retail Director at Shaftesbury, Samantha Bain Mollison commented: "Our retail strategy at Seven Dials has always nurtured emerging independent brands, however, with so many businesses responding to adversity with enterprise since the Covid crisis, we wanted to create an additional platform to support. The Start Up with Seven Dials initiative is great as it is a two-way street, and the destination is also set to benefit greatly in welcoming these fresh and well-considered concepts to the diverse retail community. In line with the International Women's Day 2021 campaign theme of #ChooseToChallenge, this initiative from Seven Dials is a great platform for us to celebrate women's achievements and is sure to propel each of the four brands to new heights."
Tom Bottomley, Contributing Editor, TheIndustry.fashion, and Retail Consultant added: "Through involvement in 'Start Up with Seven Dials' judging panel, it has been a pleasure to discover innovative and thoughtful new female-led brands which have found opportunities, rather than setbacks, throughout the pandemic. The quantity and calibre of entries received has also highlighted that, despite successful online sales performance, brands still consider physical retail as crucial to their establishment and growth."
Launching over the summer months, the four selected brands will sit alongside a host of Seven Dials' independent, brand flagships such as Farah, Coco De Mer and Tatty Devine, as well as Unit X, the internationally acclaimed gallery which has recently opened its permanent exhibition space in Seven Dials following a successful pop-up within the destination.
To acknowledge and celebrate International Women's Day 2021, Seven Dials has joined forces with educational charity, 'The Female Lead', to launch the second series of their leading podcast featuring key female entrepreneurs throughout the destination, including Peter Barran (Seven Dials Market / KERB), Aine Donovan (They Made This), Alex Vanthournout (Fashercise), and Zoë Paskin (The Barbary). Seven Dials has also partnered with award-winning journalist Poorna Bell to create dedicated International Women's Day content, set to be published across Seven Dials' channels to mark the event.
To ensure the safety of all visitors and the tenant community, Seven Dials has implemented timed road closures, in partnership with Camden Council, to enable adequate social distancing. World-famous Neal's Yard also benefits from a one-way system and additional cyclist parking spaces will also be available in the area.
To stay up-to-date with the latest Seven Dials' International Women's Day activity, further Start Up with Seven Dials news, and the details of each brand's store launch, please visit https://www.sevendials.co.uk/features/start-up-with/ or follow Seven Dials on Instagram (@7DialsLondon).