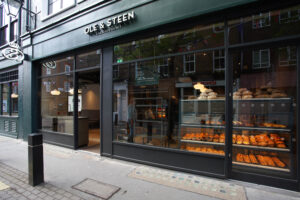 Shaftesbury has announced the opening of four new culinary operators in the Seven Dials community. Danish bakery Ole & Steen, French restaurant The Patate, new dining concept St Martin's House and boutique gelateria, ANITA join the destination's already extensive array of restaurants, bars and cafes, reinforcing its position as a go-to dining destination in the heart of London's West End.
Ole & Steen has opened their flagship London site with a 2,411 sq ft Danish-style space in the heart of Seven Dials. The prominent Neal Street x Short's Garden corner site has been designed in house and repurposed to accommodate the new, two-floor all-day restaurant. Featuring a selection of freshly baked hand-made bread, pastries and cakes, Ole & Steen combines classic Danish flavours and serves them alongside their certified specialty coffee.
Blending classic French cuisine with modern street food is The Patate, who have launched their second site on Neal Street. Spanning 1,000 sq ft and two floors, The Patate Seven Dials serves a selection of burgers, poutines, and toasties, each featuring their signature slow- cooked beef, combining a special blend of spices and juices.
St Martin's House opened its flagship location on Upper St Martin's Lane last month, offering unique, locally sourced British cuisine. Set across three floors, the restaurant is decorated with the history of its local surroundings in mind, with nods to the historic Covent Garden flower market, evident in the blossom-filled walls and menus featuring edible flowers. The expansive 5,000 sq ft space also includes an al fresco dining area and a bar open till late on weekends.
Joining the line-up on Upper St Martin's Lane is ANITA, which opened its debut London site for the international, family-owned boutique gelateria on May 16th. ANITA Seven Dials serves a wide range of 100% hand-made products, including over 40 flavours of fresh gelato, frozen yogurt, sorbets and vegan options.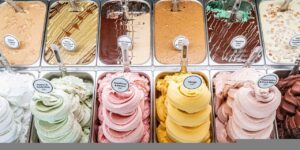 Lee Nixon, Managing Director of Ole & Steen, commented, "Opening our flagship site in London is a crucial part of our expansion plans for 2022 and we are excited to now be offering our signature Danish flavours in the key, central location that is Seven Dials. The destination's reputation perfectly suits Ole & Steen's commitment to providing premium service and quality products, and Seven Dials' ethos aligns seamlessly with our pursuit of top culinary craftsmanship."
Julia Wilkinson, Restaurant Director at Shaftesbury, added, "These new openings are all unique concepts offering high quality and inspiring culinary experiences for our visitors whilst also enhancing our versatile hospitality offering across Seven Dials. We are proud to work with such an exciting mix to reinforce the community's positioning as a prime dining destination in the heart of London's West End."
Hanover Green Retail, Distrkt, Shelley Sandzer, Cushman & Wakefield and Nash Bond represented Shaftesbury, while RAB Retail and CDG Leisure acted on behalf of Ole & Steen and The Patate respectively. Restaurant Property represented St Martin's House, and Stonebrook acted on behalf of ANITA.