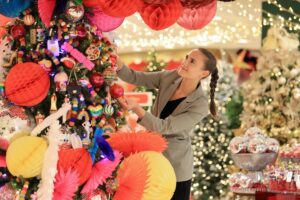 Selfridges Christmas related online searches has more than quadrupled; 225% ahead of forecast 
With 12 weeks to go to Christmas, Selfridges London opens its Christmas Shop helping customers to plan and prepare for festive moments to dream of.
The opening of the Christmas Shop on the fourth floor of the Oxford Street store follows the successful launch of festive decorations at Selfridges.com two weeks ago, with a surge in Christmas related searches online and decoration sales +225% ahead of forecast.
Some of the most popular searches on Selfridges.com have been advent calendars, Christmas decorations, stocking fillers and Christmas hampers. Customers are looking forward to the Christmas countdown with 'advent calendar' being the number one search term on Selfridges.com for the last two weeks.
Selfridges was the first brand to launch a beauty advent calendar in 2010, and now offers more than 50 options across food, home, beauty, fashion, toys and accessories. Searches for 'beauty advent calendar' are +106% on 2020 and sales of food advent calendars are already +1226%. There has also been a huge demand for pet advent calendars, new for 2021, as more households have become pet owners in the last 18 months.
Selfridges Christmas Shop boasts an edit of beautiful decorations that are desirable, unique and more planet friendly. This year there are more options than ever before, 35% more than last year, with a total of 750 baubles to choose from. Prices range from £3 to £600 for a life-size fuzzy baby deer.
Following on from launching its most earth-conscious Christmas Shop to date last year, Selfridges has increased the collection by 10%, with a total of 60% of products now eligible for Project Earth labelling, its edit of products that are better for people and the planet. Christmas decorations have been hand-selected and sourced from independent and artisanal suppliers, with a +125% increase in British brands vs 2020.
Sourcing from British suppliers means that Selfridges can offer customers a selection that is 40% exclusive, making The Christmas Shop the ultimate destination for ornaments and decorations that customers cannot find anywhere else. In addition, all stockings and crackers in the collection are British made and all cards and wrap FSC certified.
Trends coming through in decorations and ornaments this year include neon, as people look to bright colour schemes to bring fun and optimism into the home, and nature inspired schemes after a year in which many have been rediscovering the power of nature and the outdoors. Personalisation will continue to be popular; the Christmas Shop welcomes back Thie Workshop with baubles, hanging ornaments, stockings, Santa sacks and Christmas Eve Boxes.
Selfridges will launch Christmas across all stores and at Selfridges.com on 28 October.
Selfridges Christmas Shop opens from 4th October – 24th December.