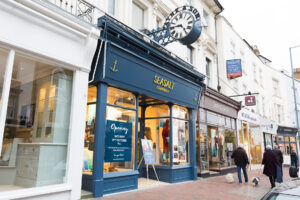 Clothing retailer, Seasalt Cornwall, has chosen Leeds-based digital marketing agency, Wolfenden, to manage its SEO and affiliates accounts, supporting another year of online growth for the brand.
Following a significant increase in online traffic and revenue since lockdown hit last year and its stores were forced to close, Seasalt Cornwall – which is celebrating its 40th year – has appointed Wolfenden to future-proof its online success with a strengthened organic and affiliates strategy.
The agency, which specialises in search marketing, has begun implementing an organic strategy which focuses on improving Seasalt Cornwall's online user experience and further expanding its audience reach across the country.
Central to the strategy is elevating the brand's awareness through digital PR activity, securing coverage around Seasalt Cornwall's core brand messages and initiatives, including its recent partnership with mental health charity, Hospital Rooms, in which it launched a Digital Art School.
Tim Ryan, Seasalt Cornwall's Director of Digital, commented: "We're really pleased to be able to say that our strong digital presence and engagement with our community online meant we were in a good position to face the forced store closures last year. The appointment of Wolfenden is key for us to maintain and build upon the organic online success we saw, as well as helping us to further develop our brand awareness across the UK.
"The strength of Wolfenden's approach and experience in our sector positions them perfectly for supporting us with this, but importantly for us, the team are a great fit with our own and we're already enjoying the collaborative working approach."
Wolfenden's managing director Daisy Wolfenden, commented: "We're delighted to be working with Seasalt Cornwall – not only strengthening the organic authority of the site and the user experience, but helping to broaden awareness of some of the brand's key messages, such as those centred on sustainable and ethical fashion, to new audiences."