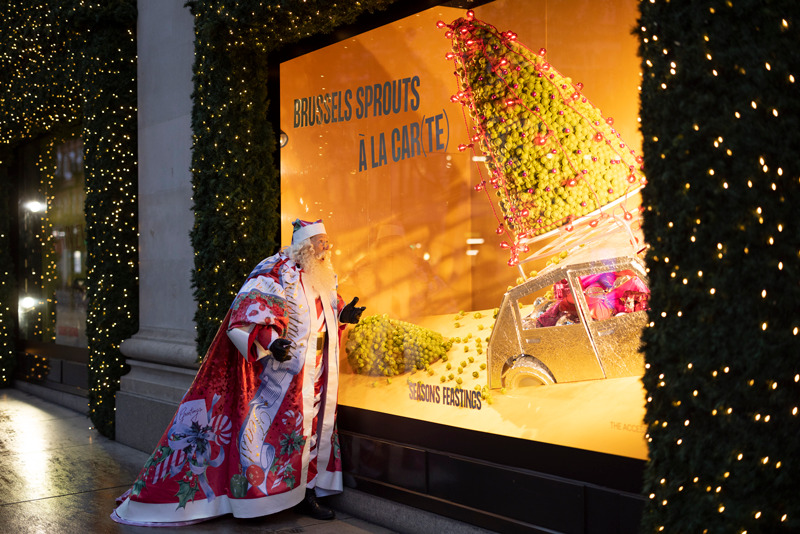 With less than eight weeks to go, Christmas launches at Selfridges stores in London, Birmingham and Manchester and on selfridges.com with a theme of Season's Feastings: a celebration of the power of food to bring us together
Season's Feastings invites customers to celebrate the power of food to bring us together this festive season. Launching across Selfridges' four stores and on selfridges.com, Selfridges will offer customers serving suggestions for setting up, dressing up, gift giving and merrymaking, as we look forward to coming together with friends and family to enjoy cherished Christmas rituals.
A Festive Day Out
The Christmas windows, unveiled last Thursday (27th October), are a must-see as part of a festive day out in London, bringing us together at this time of year. There are 15 windows to explore in total, taking inspiration from the theme with surreal and spectacular interpretations of festive 'foodie' moments. Customers can also visit Selfridges' biggest Christmas Shop to date, open on the fourth floor of the Oxford Street store, reimagined as a magical and immersive place where visitors are invited to spend time savouring the festive experience and choose ornaments that are special to them. Christmas Shops in the Birmingham and Manchester stores are also now open, along with window displays to delight and amuse.
Moments of Magic
This festive season, Selfridges is set to bring loved ones together with high energy shared experiences that are a fantastical feast for the eyes. From 25 November, Santa and his squad of Christmas pudding disco balls will be making daily visits to the Christmas Shop and festive destinations at all stores to greet customers and spread joy as the countdown to Christmas begins. Santa will host events such as the iconic Breakfasts with Santa across London, Birmingham and Manchester, giving customers plenty of chances to make their Christmas wishes.
Reimagined Destinations
Selfridges invites customers to think, feel and experience Christmas with joy and delight in reimagined destinations. From 31 October, Dolly's café in London will be transformed into the ultimate feasting destination abundant with Christmas décor. From 25 November, the party energy will be brought by a cast of Christmas characters and musical entertainment including a Christmas choir, and in the evenings the countdown clock will strike to signal a theatrical festive performance. Rottingdean Bazaar have been commissioned to design the Selfridges Christmas tree this year, located at the Duke Street entrance of the London store.
In Manchester Exchange, a new confetti cannon experience will wow customers. In Trafford, from 1 November local Instagram favourite Gooey bring their sweet treats to a new Christmas Café pop up serving cookies, brioche donuts and hot drinks, and the Birmingham store will also open a Christmas Café as a destination for customers to socialise and be inspired.
Gifts for All
Selfridges is the home of expertly curated Christmas gifts, helping customers to celebrate with gestures big and small. This year, a Season's Feastings printed guide cooks up the ultimate Christmas at Selfridges with a host of 'recipes' from friends and contributors. Customers can discover DeadHungry's ultimate festive dessert and the Black Power Waffle by Ghetto Gastro, tips on how to have a more sustainable Christmas from Stella McCartney, as well as how to create DIY decorations with Max Allen and Laila Gohar's recipe for an unconventional Christmas.
Customers will be inspired through curated advice and a personalised approach. A Hampers Concierge can create bespoke gifts tailored to any recipient and through Selfridges' Experience Concierge customers can gift unique-to-Selfridges experiences such as Cinema membership, lessons in the skate bowl and pampering sessions.
Earth-conscious shopping is easier than ever with Project Earth labelled edits that are better for people and the planet and a host of Reselfridges services such as rental for partywear, beauty refill gifting and pre-loved presents.
Celebrating Community
Selfridges is proud to partner with Centrepoint this Christmas to fund housing and support for young people across the UK. Over the festive period initiatives such as proceeds from a giant 8kg panettone in the Foodhall and a 'donate as you dine' scheme giving customers the option to add £1 to their restaurant bill will raise money for the cause.
Meave Wall, Selfridges' Stores Director, says: "This Christmas is all about coming together with loved ones to enjoy cherished rituals. We're inspired by the power of food in bringing people together and through our theme, Season's Feastings, are celebrating what this means to us at Selfridges. With our iconic Christmas windows on Oxford Street, Christmas Shops in every store and a line up of fantastic entertainment, we're ready and excited to welcome customers in to make their festive season brighter."
Share this story