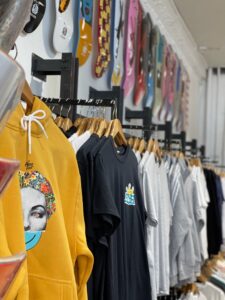 Shaftesbury has announced that multi-brand streetwear and skate retailer, Route One, has made its debut entrance to the capital, with the launch of a new London store at 47 – 49 Neal Street in Seven Dials.
The launch of Route One's 2,000 sq ft space within the iconic West End neighbourhood coincides with the first-ever inclusion of skateboarding in this year's Summer Olympics in Tokyo.
Route One in Seven Dials will stock over 100 skate and street brands together with Route One's own cult label. As well as its curated retail operations, Route One also provides an unrivalled hub of content, including interviews with the world's top action sports athletes, behind-the-scenes footage, and interactive competitions.
The store also serves as a new destination for Route One's 'Launches': a stand-alone section of the brand's website and app dedicated to bringing customers the latest limited-edition sneaker releases. In line with this, the Seven Dials store will be showcasing an experiential, subterranean area known as the "The Vault". Due to launch in August, "The Vault" will be dedicated to housing the retailer's one-of-a-kind sneaker archive.
Commenting on the signing, Samantha Bain-Mollison, Retail Director at Shaftesbury, said: "To be welcoming the debut London site for Route One is fantastic for Seven Dials. The retailer's independent spirit and focus on experience aligns well with our own ethos as a destination, and we're confident that Route One's offering will resonate amongst the Seven Dials community as successfully as it has in other parts of the UK. We look forward to seeing the hype which the store's limited-edition drops and exclusive vault is sure to spark."
Richard Boissevain, Owner and Co-Founder of Route One added: "While we have considered opening a store in London for some time, this space in Seven Dials really stood out to us due to the precinct's strong retail reputation and notoriety as a hub for the wider London skate community. Route One has established a loyal following in the capital, so it is fantastic to launch in such a prime location of the city and grow this online community through our one-of-a-kind store experience."
The signing coincides with Shaftesbury's significant investment into the Neal Street area of Seven Dials, including the creation of a new flagship retail space and refurbished office space, along with public realm improvements such as widened pavements and revitalised store frontages.
Nash Bond, Hanover Green Retail and Cushman & Wakefield represented Shaftesbury.