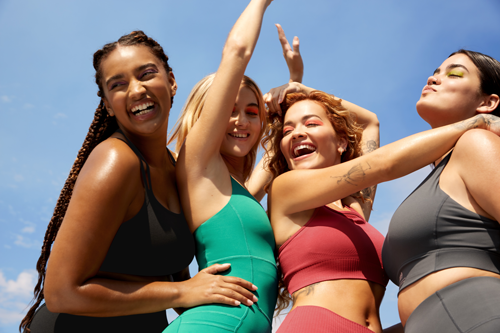 Global superstar launches sustainable activewear to take you from workout to out-out
Global superstar and critically acclaimed singer-songwriter Rita Ora announces the launch of her activewear brand Humans Being. Founded by Rita, who also takes on the role of Chief Creative Officer, Humans Being brings fashion-forward thinkers sustainable and stylish activewear designed around people and their hybrid lifestyles – equipping you with a performance collection that doesn't compromise on style or sustainable living.
As a multi-talented industry leader across music, culture, and fashion, as well as a UNICEF ambassador, Rita designed and worked closely with technicians in the fashion and sustainability sphere to curate this confluence of eco-conscious and luxury activewear crafted to be worn by the forward-thinking fashion consumer.
The brand's first collection offers stylish athleisure garments that every capsule wardrobe needs to move with you both over the years and throughout the day. From the gym and running errands to work and going out with friends, the collection is designed to provide a seamless transition from one activity to the next and with a 360° design focus, the pieces give you confidence from every angle.
"Fashion has always been an instrumental part of my life," states Rita. "When I was a teenager I worked in the shoe shop, Size? on Portobello road. I remember going to the market there to look for the perfect vintage pieces to pair with the trainers I got through my job.  I loved the idea of mixing modern and vintage styles, repurposing an item from the past in a way that made me feel special and unique, and it's something I still do to this day. When I founded Humans Being, I wanted to embody this same mentality using recyclable materials to create clothing that's both stylish and comfortable. It was important for me to create looks that people can feel good wearing both inside and out. I've put together an absolute dream team for this, and I can't wait for people to get their hands on it".
With eco-conscious choices being a top priority for consumers, pure-play products described with sustainable keywords have grown from 13% of online products in 2019 to currently 37%. But whilst this labelling of sustainability is easy, Humans Being makes eco-conscious decisions from the start of design, through to packaging and even beyond the garment's lifespan.
Crafted from sustainable and recyclable materials with a circular life cycle, including YNVIRON™ from Antex, recycled plastic bottles, and natural materials like organic cotton, the Humans Being collection rejects fast fashion and green-washing in designing truly eco-conscious, quality pieces that are built to last and made to empower.
The brand is devoted to closing the clothing loop and has partnered with RESKINNED, where consumers' end-of-life garments are collected or posted in a local portal to be transformed into storied materials. Humans Being is also partnered with the World Land Trust whereby a portion of every sale funds the purchase and protection of the precious rainforest.
The collection features 12 garments in 6 different colourways, and will all be available exclusively on the Humans Being website www.humans-being.com from 3rd November.
Share this story