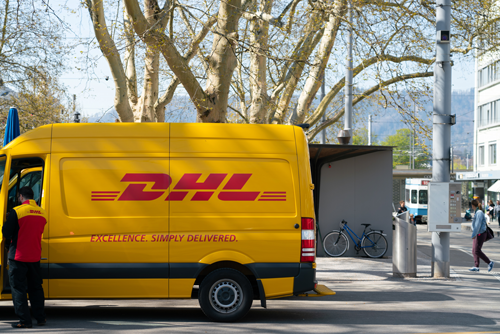 DHL Express UK will deliver parcels directly to Post Offices, providing a convenient location for consumers to collect packages
DHL is the world's leading international express service provider 
Partnership is further demonstration of Post Office strategy to open its network to new parcel carriers and drive footfall for Postmasters
Click and Collect services already rolled out to 5,000 Post Offices in under a year 
Post Office has secured an agreement with DHL Express in the UK to deliver parcels directly to Post Office branches as part of DHL's Service Point network, providing a secure and convenient location for customers to collect their purchases.
DHL Express is the world's leading international express service provider, handling more than 480 million packages and documents a year through its fast and secure network. The business currently has 1,300 Service Points in the UK.
The Post Office is the UK's largest retail network with over 11,500 branches, most open longer hours than traditional retailers. 99.7% of the population live within three miles of a Post Office.
The 'Click and Collect' service will be trialled at Post Offices in Northern Ireland before rolling out to more than 1,000 branches across the UK from the start of the New Year.
Customers making a purchase online will have the option to choose their local Post Office as the collection point, whereby DHL will deliver parcels directly to the Post Office and the Postmaster will process customer collections at the counter. DHL Express customers will receive a message regarding their parcel delivery via text, email or via DHL's On Demand Delivery service and can select to collect their parcel from their local Post Office.
The agreement with DHL Express is a continued demonstration of Post Office's strategy to open its network to external carriers, compete in the fast-growing parcels market and drive footfall for Postmasters.
Nick Read, Chief Executive at the Post Office, said: "DHL is a household name with global reach. They recognise the value our Postmasters bring to their customers with their expert knowledge of the parcel market and the long hours their branches are open giving people a convenient and secure location to pick up their packages. We are delighted to be partnering with them to expand our Click and Collect services across the country."
Ian Wilson, CEO DHL Express UK, said: "Post Office with its reputation as a trusted institution as well as its nationwide footprint make it an ideal Service Point partner to extend our delivery options in a way that will give recipients even more convenient choices and total confidence that their parcels are in good hands. In addition, by expanding our Service Point network, we're able to further consolidate deliveries, helping to reduce road miles and drive down carbon emissions, which is an essential part of our sustainability strategy."
Since opening its network to external carriers last year for the first time in its 360-year history, Post Office has grown the number of branches offering click and collect from zero to almost 5,000.
With 93% of the population living within one mile of a Post Office and most branches open longer hours than traditional retailers, click and collect is often a more flexible option for consumers than getting a parcel delivered directly to their home. The partnership with DHL also reduces the environmental impact of having vans making multiple stops to drop off parcels, whilst at the same time encouraging people to return to their local high street on foot.
Nick Read added: "Last January we had no carrier partnerships, and in the space of a year we've grown our Click and Collect capabilities fivefold, a testament to the size and reach of the Post Office network and the accessibility it affords consumers. We look forward to rolling out DHL Express services across our network over the coming weeks."
Image courtesy Unsplash.
Share this story