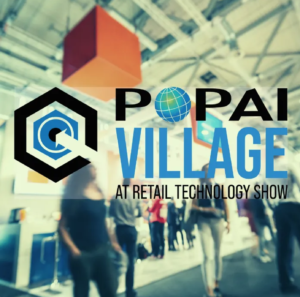 The Retail Technology Show have announced a strategic partnership with POPAI UK & Ireland – the trade association dedicated to the point-of-purchase (P-O-P) industry in the UK & Ireland to bring a dedicated area to the 2023 Retail Technology Show to promote P-O-P, shopper marketing and in-store design.
The POPAI Village will be a new key feature of the show, aimed at promoting and championing the importance of P-O-P, shopper marketing and in-store design. The village, a dedicated home for POPAI members, will showcase suppliers demonstrating excellence through displays on stands, expertise on a dedicated content stage, and collaboration through meetings and networking within the village.
Phil Day, Managing Director at POPAI UK & Ireland, commented: "There has never been a more important or seminal moment for physical retail, and we are delighted to be able to reflect that in a physical show. It's critical for the industry to come together. There is a pent-up desire and demand to meet face-to-face. As an association, POPAI has a duty to bring the industry together – and there is no better place to do that, than at RTS.  A partner with the experience, expertise, knowledge, and track record, to deliver a great event for the retail industry. The demand is there and it's a great fit with the breadth of solutions, speaker sessions and networking on offer. This gives people a cost-effective, viable alternative to Düsseldorf."
Michelle Thomas, Sales Director for the Retail Technology Show, commented: "We are thrilled to be working with POPAI again, creating this fantastic new feature at RTS for their members.  Having not had access to a face-to-face event in the UK since 2019, it seemed like the perfect synergy for POPAI and its members, to join us at our leading retail event. We have curated this area with both large and smaller companies in mind, making it accessible to all members. I am excited by what we can achieve!"
The Retail Technology Show returns again on 25 & 26 April 2023 at London Olympia.  For more information and to enquiry about participation in the POPAI Village at #RTS2023 visit: POPAI Village – Retail Technology Show.