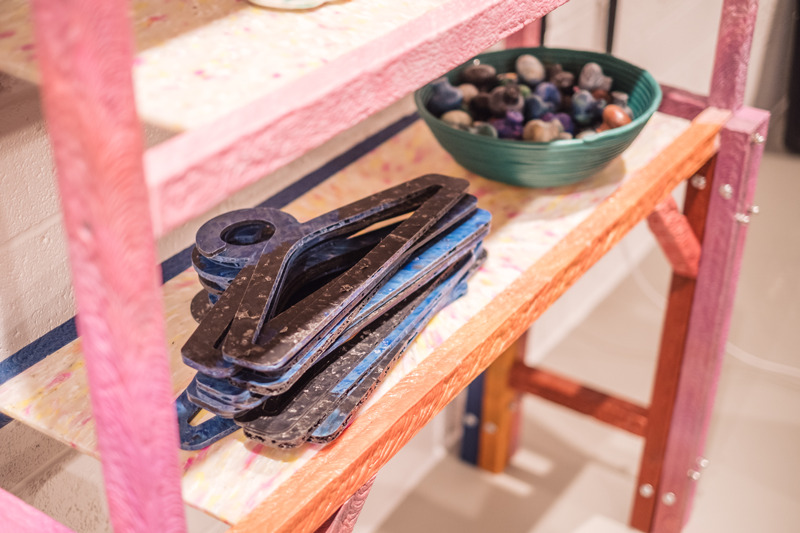 Calling all Londoners, in celebration of World Recycling Day on the 18th March, Are You Mad – the first visible recycling shop in London is looking for plastic waste to be donated. The space exists as both a plastic sorting facility and a retail store and is located in the newly launched Berwick Street units. The brand collects plastic waste from local businesses, shoppers and their growing community, which is then sorted, cleaned, shredded, and turned into new objects, including furniture, products, art and accessories. Prices start at 50p and range up to £15,000 with over 100 different products available.
The concept was created by Londoner James Suckling in 2022 and over the last 6 months the collective has regenerated 5 tonnes of plastic. Recycling systems are complex and unfortunately much of our waste still ends in landfill, being burned and sometimes – sent to other countries.
James Suckling, Founder of Are You Mad, says "We are delighted to be in the heart of Soho, recycling local plastic from some of the most exciting brands in London. We hope to help people make a conscious decision to recycle unwanted plastic and turn it into something creative that can be used everyday. World Recycling Day helps highlight the urgent need to make a difference for the future and we are proud to be a part of it."
Emma Steele, Head of Retail Activations at Shaftesbury says "Are You Mad aligns perfectly with Shaftesbury's sustainability initiatives and is a great addition to the area. We are encouraging local businesses to bring their plastic waste to the unit to be recycled. This exciting concept is something we are proud to have in our Soho destination and we hope customers enjoy visiting the immersive space."
Located at 96-97 Berwick Street, beyond existing as a store, Are You Mad is also a workshop space where customers can bring in their own rubbish, learn about plastic and have the experience to turn their own trash into something creative.
The aim of the project is to Make A Difference (MAD), by creating an experiment in circularity. They collect three different types of plastic: (02) HDPE, (05) PP, and (06) PS which is found in items such as broken hangers, milk bottles, bottle caps, and food crates.
Soho brands that are supporting Are You Mad include; Reckless Records, Annie's Ibiza, GANNI, Swatch, and G-Shock. As well as food & beverage brands; Soho Grind, Zahter, The Breakfast Club and Le Bab.
Are You Mad is a non-profit organisation who have partnered with The GROW Foundation, a charity that works with schools and communities delivering bespoke programmes in sustainable food growing and outdoor learning. Are You Mad takes charitable donations for this project in store in exchange for retail products.
The pop-up space has been donated by Shaftesbury.
Share this story