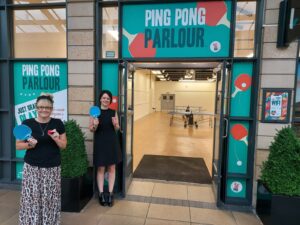 Shoppers at Lakeside Village will once again be able to take a break from shopping and enjoy playing some free table tennis as the centre welcomes back the pop-up Ping Pong Parlour.
The parlour can be found in unit 20, along from the Gift Company, and will be open Monday, Tuesday, Wednesday, and Friday 10am – 6pm, Thursday 10am until 7pm, Saturday 9.30am until 6pm and Sunday 10am until 4.30pm.
Everyone is welcome to drop in to play on one of the three table tennis tables in the parlour which promises to be an exciting attraction for visitors. The tables are now in place; to join in the fun, bring a bat and play – absolutely free of charge!
Di Rodgers, centre manager at Lakeside Village, said: "We know that our customers loved enjoying a game of Ping Pong when we last had the pop-up parlour here in Doncaster.
"The tables were very well used, and we know that people will be please to pick up a bat and give it a go again.
"Whether you're trying to burn off excess energy from the excitement of shopping or trying to clear your mind to decide between those two summer tops, ping pong is the answer!"
The Parlours are aimed at everyone – irrespective of age, ability or gender, and especially those who wouldn't normally consider going out to play a sport, by reaching them in a place they already enjoy spending time.  The Parlour will be available to pop into and play; completely free and without having to book.
To find out more about the Ping Pong Parlour at Lakeside Village please visit: www.lakeside-village.co.uk/events/ping-pong-parlour.