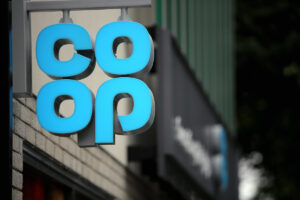 OneBanks is expanding its successful trial with the launch of its second pilot in-store kiosk. Once fully operational later this month, the new kiosk – recently installed at the Co-op convenience store in Kilwinning, in the West of Scotland – will enable customers to deposit and withdraw both notes and coins, as well as manage payments for utilities and other bills.
The in-store kiosks have been designed to cater to communities which no longer have local bank branches, but still value talking to OneBanks' trained staff when carrying out basic banking transactions. The Kilwinning trial will also offer OneBanks the opportunity to roll out an updated kiosk design which is wheelchair compatible, with team members equipped and trained to support those who are hard of hearing through the SignLive app.
In addition to the services already on offer at the first ever kiosk located in Co-op's Denny store, the Kilwinning site will test out a new facility, developed in partnership with G4S, which means customers can deposit coins as well as notes, as well as manage payments for utilities and other bills. The facility is equipped with a touch screen which also allows customers to purchase goods and services from online providers such as Amazon using cash, and receive change in coins.
OneBanks and the Co-op plan to roll out an additional kiosk in the Fife town of Lochgelly in the coming weeks.
Mark Matthews, Co-op's Director of Innovation and Format, adds: "Co-op is committed to connecting communities, making a difference locally and operating at the heart of local life, and we are working with partners to develop added services and choice conveniently – creating a really compelling offer to serve our members and customers in our communities."
The OneBanks' shared branch concept received a boost in May when UK Finance and the largest retail banks and building societies launched the Access to Cash Action Group, examining ways that businesses and individuals can continue to use cash for everyday banking.  As part of its existing co-operation with the banks' Community Access to Cash Pilots, OneBanks is providing data to feed into the design of possible models that will meet that objective.
OneBanks expects similarly enthusiastic take up in Kilwinning, where the last bank branch closed in 2018. Thanks to the convenient location within the Kilwinning's local Co-op store,  OneBanks will be able to offer extended opening hours. Duncan Cockburn, OneBanks' Founder and CEO, says:"Around 50 bank branches a month are closing and have been for the last six years. Thanks to the Co-op who share our belief in the importance of bringing face-to-face banking back to the community, we are now able to roll out our second kiosk which will offer a wider range of services, all with the same human touch people value."
Since the Denny trial was launched, local residents have been taking advantage of the kiosk to carry out their day-to-day banking business. The services are provided free to customers, whichever bank they use.
The ability to deposit cash at the kiosk has proved particularly popular with small businesses as it has enabled them to avoid a round trip of nearly 15 miles to their nearest open bank branch to bank their cash takings. Michael Thompson who runs The Fruit Basket in Denny said: "Since the last bank in Denny closed, we've had to travel to Stirling to deposit takings, so the convenient OneBanks kiosk saves our business time and money. The staff here are so friendly and helpful."
The kiosk has been welcomed by the local community as a vital contribution to their attempts to bring economic activity back to the town, some four years after the last bank branch closed. Denny's local community representative, Louise Hay says: "There are many people in Denny who want and need access to a bank branch, so OneBanks is helping restore a key focal point for the local community."
Annie Corvi, from Daisy Beau, Denny's local beauty salon, added: "I don't have to spend time on my day off going to Falkirk to sort out my banking. I can just cross the road any time to put my money in."