The store, on the site of the Old Vinyl Factory on Material Walk in Hayes, opened on Wednesday, June 30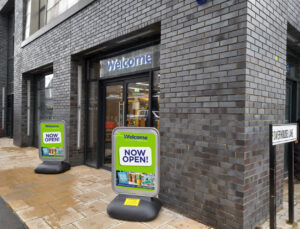 The new retail convenience store launched under the Welcome co-operative brand, stocking local, ethical and Fairtrade products, and opens seven days a week, from 7am to 10pm.
Hayes' new Welcome store, a franchise partner of Southern Co-op, follows a £250,000 investment in the Hillingdon town. Southern Co-op, the regional, independent co-operative, has more than 200 stores in the south of England and a commitment to local communities.
The opening of the store has created ten jobs in both full- and part-time roles, providing a much needed boost for the west London community.
For two weeks from opening, customers of the store will be able to win a £100 voucher, and grab other goodies – including £5 off a £20 spend, and £1 off fwip ice cream.
Working with Southern Co-op's team, the new store owner Kailasapillai Sivathasan, known as 'Siva' has created a 1,300 sq. ft. modern convenience store with grab-and-go hot freshly baked food.
Siva said: "Our focus has been to get the new store up and running as quickly as possible, ensuring we service the needs of our customers. The support we've already had from local people has been amazing.
"We couldn't be more pleased with the finished store. It's a fantastic working environment for staff and it's great for customers. It's been worth the investment and the hard work that's gone into it and now hopefully we will see the rewards."