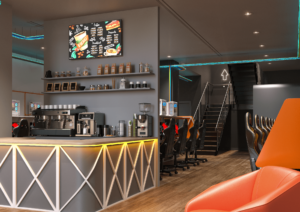 Cain International ('Cain'), the privately held investment firm, has let 3,000 sq ft in its Islington Square development to leisure brand New Meta in a deal that strengthens the mixed-use destination's all-day shopping, dining and playing appeal.
New Meta aims to be the go-to place for PC gamers and e-sports fans to game on high-end equipment while enjoying a wide variety of food and drinks. The gaming arena will host regular tournaments and competitions which will be open to everyone, as well as broadcast e-sports competitions and organise regular watch parties for big events in the e-sports world. It also plans to open an e-sports academy, for children of school age, with live coaches, a broad curriculum and regular competitions. New Meta will launch at Islington Square in August
The gaming arena, which will be New Meta's first physical space, is the latest leisure concept to open in Cain's mixed-use Islington Square, where it will join a Third Space health club and an ODEON Luxe & Dine cinema. A neighbourhood retailing destination as well as a dining hotspot, Islington Square is home to notable names such as Anthropologie, Borough Kitchen, Arlo & Jacob, APC and Duck & Dry, and restaurants including Sproot, Megan's, Jiji, Prezzo and Omnom.
A short walk from transport hubs including Angel and King's Cross, Islington Square also hosts events all year round, including community activities, as well as featuring new homes and workspaces. Some of the UK's top creatives have taken office space at the development, including Fullwell 73, the production company that counts James Corden among its partners, and which occupies 25,000 sq ft.
Orme Property acted on behalf of Cain International.
Neil Barber, Retail Leasing Director at Cain International, said: "Islington Square is proud to be the first destination for this innovative brand. That New Meta has chosen Islington Square for its physical debut is a testament to the vibrant line-up of brands we have curated. With Islington Square's sharp focus on providing enjoyable and special experiences each time our guests visit us, New Meta will complement our offer well as we continue to grow our collection of some of the most interesting names operating in retail, F&B and leisure."
Ed Kim, Director at New Meta, said: "We can't wait to open our first ever store in Islington Square. Our followers have been waiting in anticipation for this moment and we are thrilled to be able to give them an answer – and one that is in such an excellent location where many will be able to easily visit. For a brand as distinctive as New Meta, we needed the first store to match our originality and enthusiasm, and the vibrant, cosmopolitan community of Islington was the perfect destination."