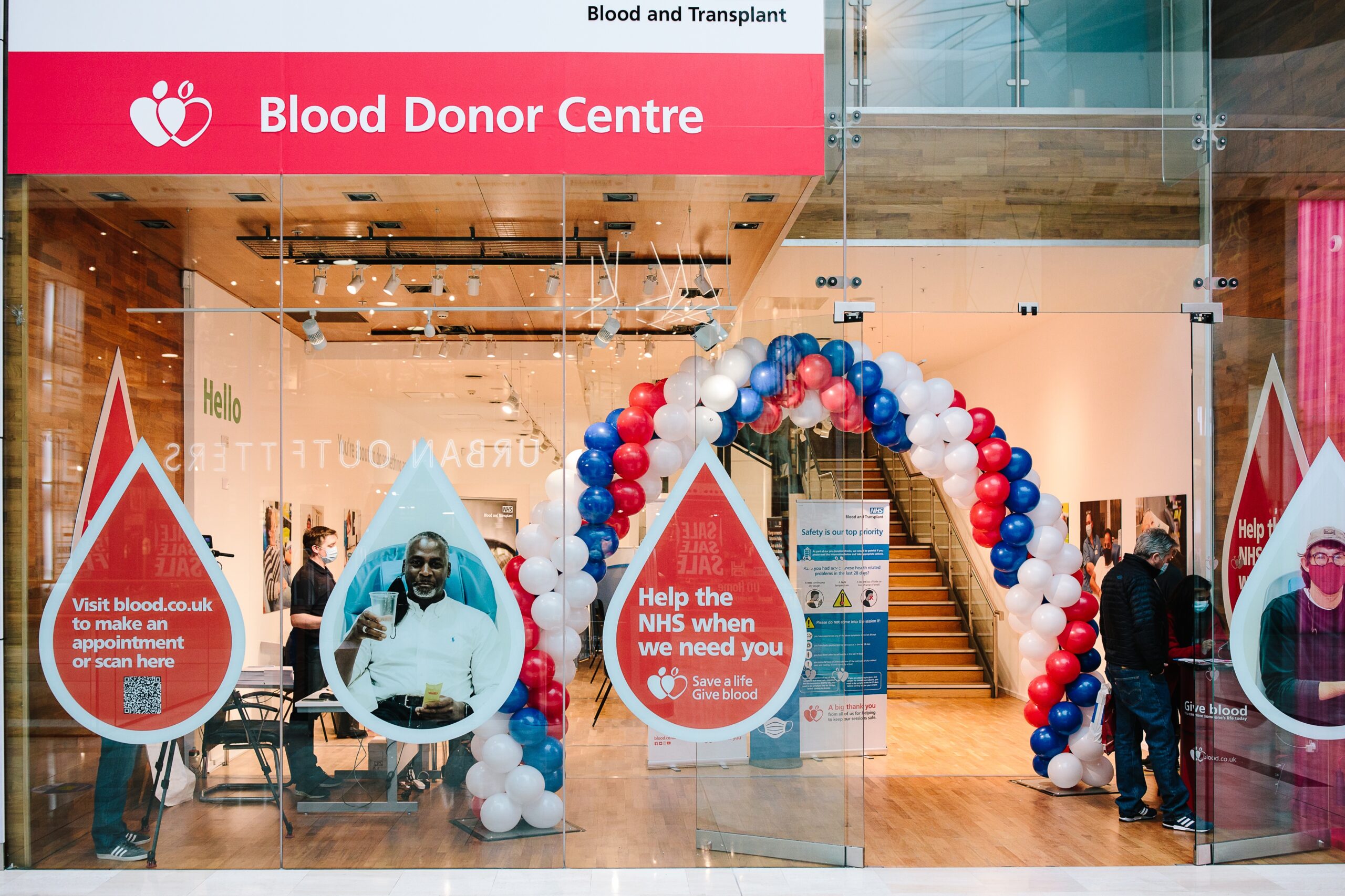 First-time and regular blood donors are being urged to make appointments at the new Blood Donor Centre opened this week (Monday 22 February) at Westfield London Shopping Centre, Shepherd's Bush, London W12 7GF.
The new premises, containing six beds, are on the first floor between M&S and The Village.  The centre will book around 170 appointments per day.
NHS Blood and Transplant (NHSBT) Regional Donor Marketing Operations Manager Daniel Clarke said:
"We already have a good number of loyal donors in the city, but we know there is the potential to attract more. Westfield is the largest retail destination in Europe and by placing our new Shepherd's Bush Donor Centre in it we hope to collect even more lifesaving donations in London."
It's important to continue to give blood during the Coronavirus pandemic – a positive act we can still perform that makes a big contribution.  During lockdown, donating blood is permitted as essential travel for a medical need, and extra safety measures have been put in place. Daniel said:
"Safety at collection centres is our number one priority. We're spacing donors out and doing extra cleaning. Our staff are wearing masks and we're triaging everyone, which includes a temperature check so only people with no risk factors can enter the donation area. We are also asking donors to wear their own face coverings to protect other donors and our staff."
The new centre needs to collect over 19,400 donations each year to meet hospital demand. Each donor has the potential to save or improve up to three lives with every donation.
Katie Wyle, General Manager Westfield London said:
"Westfield London is delighted to provide space to NHSBT where volunteers can donate blood via bookable appointments. The vital service will hugely benefit the local community to help save lives. I'm very proud of our onsite team who has worked hard to support the delivery of the new Blood Donor Centre which launched to the public this week. This follows the successful partnership we have established with the NHS and NHSBT to open a COVID Vaccination Centre and Plasma Donor Centre at Westfield Stratford City as well as the Hammersmith & Fulham Rapid Flow Testing Centre at Westfield London".
There is an urgent shortage of donors from Black, Asian and Minority Ethnic (BAME) backgrounds, whose blood is particularly needed for conditions requiring long term transfusion programmes, such as Sickle Cell Disease and Thalassemia. Patients with these conditions need blood as matched as possible, and the best way to get this match is blood of a similar ethnic background.
NHSBT Events and Outreach Ambassador and postgraduate student Mary Adeturinmo has Sickle Cell Disease and receives up to 10 units of blood a month to manage her condition. Her health challenges include regular hospital admissions, chronic pain and three eye surgeries because of the disease. Mary said:
"I have been undergoing blood exchange for the past five years. It relieves major Sickle Cell crises and helps me to maintain my normal life. As an example, recently I became unable to walk, and at that point I knew that I needed blood exchange soon. I had the treatment, and it gave me back my mobility."
We need people from all communities to give blood to make sure the right blood is available for everyone. At present we have around 43,000 donors from a BAME background – just under 6 per cent of all active donors.
Book an appointment to give blood at  the new Shepherd's Bush centre by calling 0300 123 23 23 or visit www.blood.co.uk