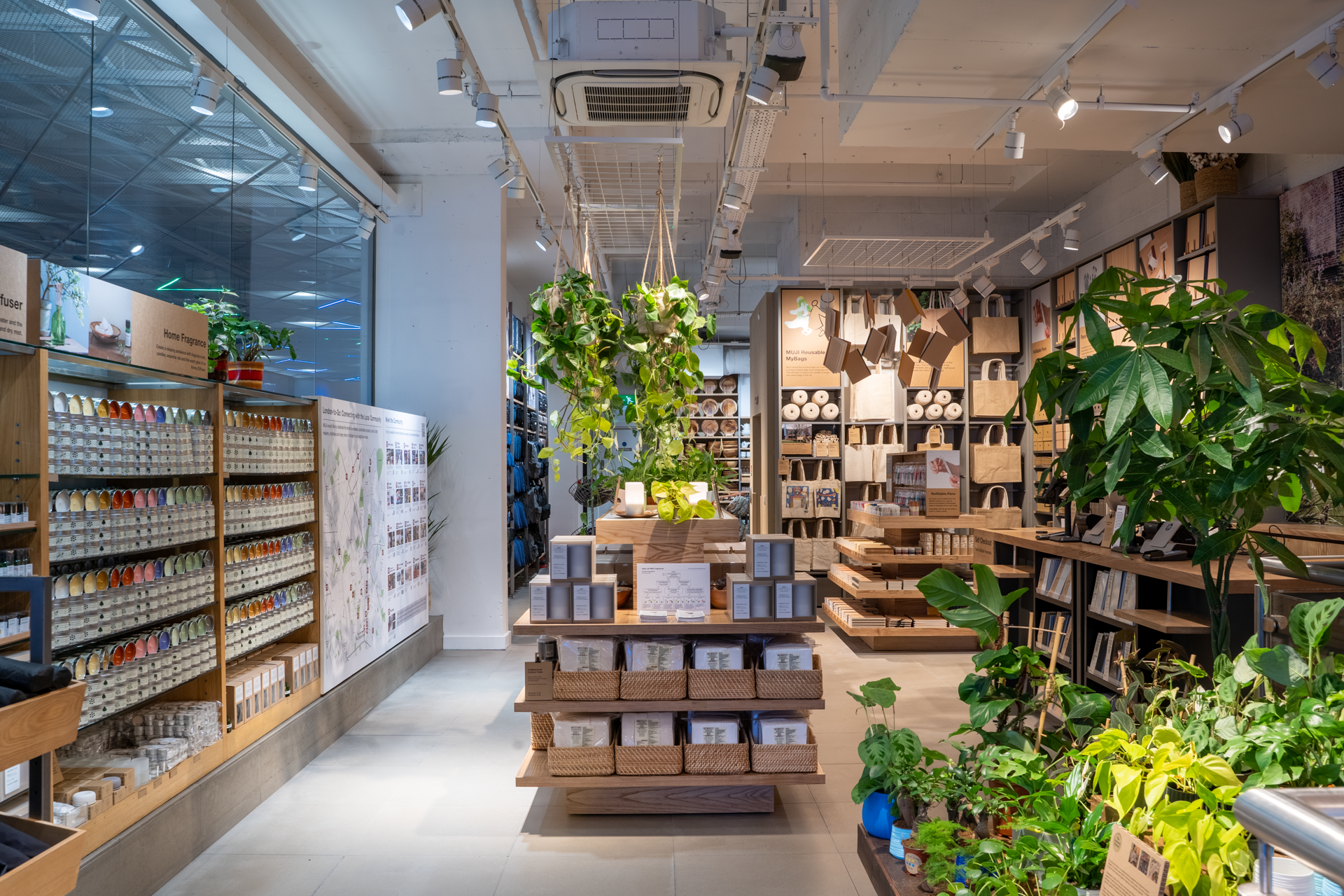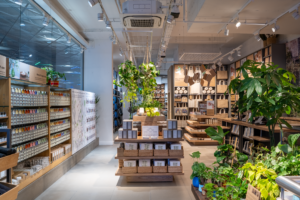 Angel Central has announced MUJI's brand-first refurbishment and community market initiative
CBRE Investment Management has announced that MUJI, the Japanese retail company specialising in household and consumer goods, has refurbished its Angel Central store, and introduced a community market to champion local brands. The revamped store is a first of its kind for the brand in the UK.
Having reopened on 31st August, the new and improved 2,624 sq ft store allows MUJI to bring its sustainability focus to the forefront of its Angel Central offer. Championing 'recycle and repurpose' initiatives, woven together by a brightened design with added wooden feature walls, fixtures and display monitors, the new store is evidence of the brand's approach to thought and design.
MUJI has been a part of Angel Central for eight years, offering staple and minimalist products for the destination's shoppers. The latest refurbishment and local market are a key milestone for both Angel Central and the MUJI brand, highlighting its long-lasting commitment to the leading retail and leisure destination, and showcasing the complementary approach between landlord and tenant to supporting Islington's community.
The community market was held within the Angel Central Piazza to coincide with the relaunch, as an initiative to champion local brands and bring communities together. The market provided a range of activities and workshops and included an array of creative brands such as: Artbox London, art by artists with learning disabilities and autism; FRYTH's sustainable homeware; and Leiho, bamboo socks that help support homeless communities with every purchase.
David Brice, Managing Director at MUJI UK, commented on the refurbishment and community market: "Our store at Angel Central is incredibly important to us. We trade so well here, and it's a destination that supports its local community, so we knew our Angel Central store would be the perfect place to begin rolling out this refurbishment. We have a great relationship with the Islington community, and CBRE IM have worked collaboratively with us to support our re-fit and community market plans. We're excited to see this store continue to thrive and make sustainable choices more accessible for consumers."
Ciara Daffy, Asset Manager at CBRE Investment Management, also said: "MUJI has been a much-loved offer within Angel Central for years, and it's testament to their performance here that they decided to invest in a new design concept. Angel Central has a strong approach towards sustainability initiatives, and the team works closely with local charities, so MUJI's plans align perfectly with our overarching ethos. The store re-design will elevate our offer further and the community market was yet another successful event here designed to support local people and businesses."
Share this story