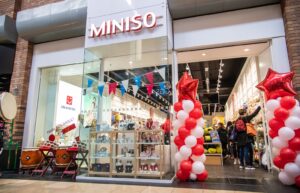 Touchwood Shopping Centre in Solihull has further enhanced its offer with the opening of Japanese-inspired lifestyle brand Miniso.
Miniso offers a range of high-quality and design-led products – including toys, tech, stationery, accessories, home, food, health and beauty – and has taken a 3,000 sq ft store at Touchwood on a new ten-year lease.
The opening of Miniso further widens the shopping offer at Touchwood, in line with the strategy devised by owner The Ardent Companies UK ("Ardent UK") and asset manager Sovereign Centros. Other notable openings this year include luxury watchmaker Tag Heuer, Laser Clinic, Polestar electric cars, premium appliance manufacturer Miele and cosmetics brand Rituals.
Ardent UK acquired Touchwood in July 2021, the first major shopping centre acquisition in the UK since the onset of the pandemic, after which the centre's performance has continuously improved, with occupancy hitting 95%.
Andrew Hilston, Managing Director at Ardent UK, commented: "Our fundamental approach at Touchwood has focused on giving visitors the greatest possible range of shops and restaurants to enjoy, and Miniso is a fantastic addition to the line-up." 
Simon Phipps – Asset Manager, Sovereign Centros added: "It's definitely an exciting phase for Touchwood. Our leasing strategy is delivering a healthy mix and wider offer for Touchwood's loyal customers. These new retailers are all offering something unique and that is underpinning the centre's continued success."
Ardent UK and Sovereign Centros were advised by Cushman & Wakefield and Knight Frank.