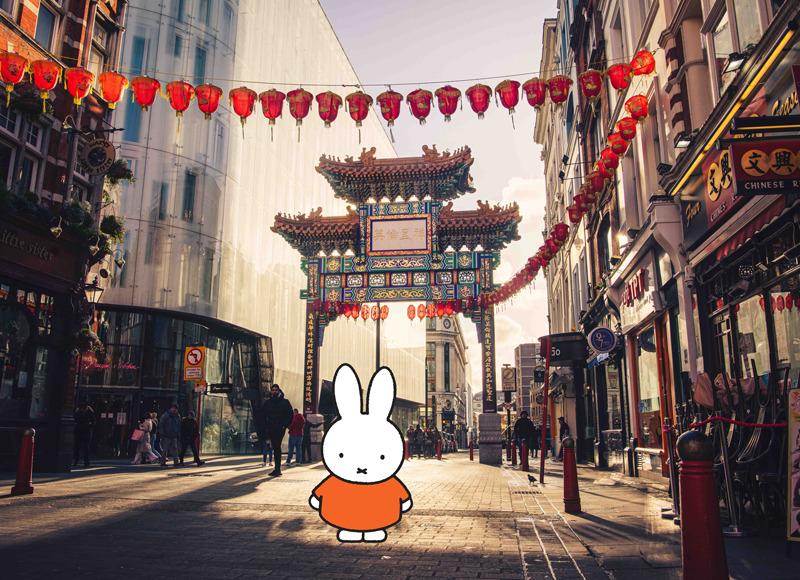 Shaftesbury has announced that the beloved character turned globally recognised brand, Miffy, is set to launch its first-ever standalone pop-up activation on Chinatown London's 78 Shaftesbury Avenue. The classic storybook character will be brought to life in the 400 sq ft space, as the destination celebrates the Year of the Rabbit.
The 3-month long pop-up will also stock an exclusive selection of limited-edition products. The collection will include select Year of the Rabbit-themed merchandise within a space designed to reflect Dick Bruna's signature colours and minimalist artistry with a dramatic rainbow colour wall of Miffy plush, eye-catching monochrome window vinyls.
Allowing visitors to interact with Miffy in a first for the brand, the pop-up features a range of unique experiences, from a Miffy costume character during special meet and greet gatherings to greet guests on arrival, to a giant Miffy-themed lamp and a picture frame for photo opportunities.
Emma Steele, Head of Retail Activations at Shaftesbury, commented: "As we celebrate the Year of the Rabbit, the signing of a unique Miffy pop-up at Chinatown London showcases the destination's strength, as a leading cultural hub for ESEA tradition and trends. Miffy is such an iconic and popular brand across the Far East, so it fits perfectly with the way we look to mirror those trends here in Chinatown London, and we are delighted to be adding this nostalgic and playful pop-up to our tenant mix."
Marja Kerkhof, Managing Director at Miffy's global rights owner Mercis bv, added: "Chinatown London is the ideal location for a standalone pop-up and its iconic reputation aligns perfectly with Miffy's international renown. We are so excited to be bringing a little of Miffy's magic to such a dynamic and exciting community and celebrate what is set to be a truly special year."
Share this story