Merry Hill shopping centre chosen as location of new Primark home and lifestyle offering 
Announcement comes amid a flurry of new leases at 2 million sq ft+ centre in West Midlands
Details of major five-year investment programme to transform centre revealed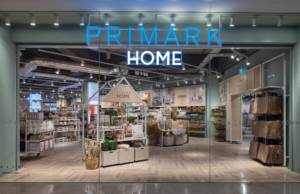 A host of new brands – including an expanded Primark store – have agreed to take space at Merry Hill shopping centre, near Birmingham, as further details of a major five-year transformation plan for the centre are revealed.
Primark Home, an enhanced customer experience that offers the latest interior design trends at affordable prices, is the next step in realising a vision to attract more flagship concepts and unique store experiences to the West Midlands shopping destination.
Expanding by 10,000 sq ft, the now almost 84,000 sq ft Primark Merry Hill store will provide customers with a range of home and lifestyle items at affordable prices.
Paul Baldwin, Trading Director at Primark, said: "We opened Primark at Merry Hill in 2007 and we are very proud to see our store expanding, offering the latest interior design trends at affordable prices.
"There has been exceptional growth within our home and lifestyle department over the past 18 months as people have spent more time in their home. We are continuously looking for new ways to innovate and look forward to seeing our ambitious plans come to life at our Merry Hill store."
Primark's expansion comes amid a flurry of new leasing activity at the centre, including an extended food and beverage offer with deals exchanged with Starbucks drive-thru, German Donner Kebab and the 12,500 sq ft+ Bon Pan now open. Smyths Toys has also announced the opening of a new 25,835 sq ft store, further enhancing the family offer at the centre following the arrival of Hamleys this summer. This year alone 49 new or renewed deals have been agreed – or are close to exchange – at Merry Hill.
Further details of the major investment programme for Merry Hill and the nearby Waterfront leisure destination have also been revealed. The plans will see some of the current retail offer converted into new leisure uses, including early concepts for a number of unique new 'districts' dedicated to entertainment, fashion, health and wellbeing and more.
Anchored by a 10-screen Odeon cinema, the enhanced leisure offer at Merry Hill looks to bring new dine-in eateries, bars and family entertainment experiences to the centre. Food-based pop-ups, culinary experiences and festivals featuring a strong, local and culturally-diverse focus will also form a major part of the investment programme, encouraging shoppers to visit Merry Hill more often and dwell for longer.
Extensive plans are being drawn up to better connect the centre to the nearby Waterfront, which today is home to a variety of independent eteries, shops, the Resonance music academy and community organisation, Black Country Radio and residential units.
A new dedicated health and wellbeing area will be created, bringing tailored services, products and experiences to the centre. Merry Hill's investment programme will also champion quality local retailers and food and beverage providers.
Further plans for an enhanced culture and enlivenment programme are in development as part of a long-term engagement strategy with local arts, culture and educational institutions, to create memorable experiences throughout the year for visitors and shoppers.
Mark Robinson, co-founder of Ellandi, commented: "The opening of Primark Home marks a major milestone in our five-year journey to redefine Merry Hill as the leading family shopping a lifestyle destination for the West Midlands.
"The response to the proposed investment programme announcement has been extraordinary and we have been delighted by the subsequent enquiries from potential occupiers.
"We are very proud of Merry Hill, particularly in terms of how the centre has performed both during and after numerous pandemic-induced lockdowns. The pandemic has given the retail sector pause for thought to bounce back better, while the re-opening of non-essential retail has proved there is still a significant appetite for bricks and mortar retail destinations.
"Merry Hill is already one of the leading shopping destinations in the UK, but by 2025 it will be home to even more flagship concept stores, as well as a revitalised leisure offer. We will tap into emerging consumer trends to future-proof the centre for years to come.
"We continue to work hard behind the scenes to make our vision a reality and we look forward to welcoming some of the biggest and best-known brands to Merry Hill."