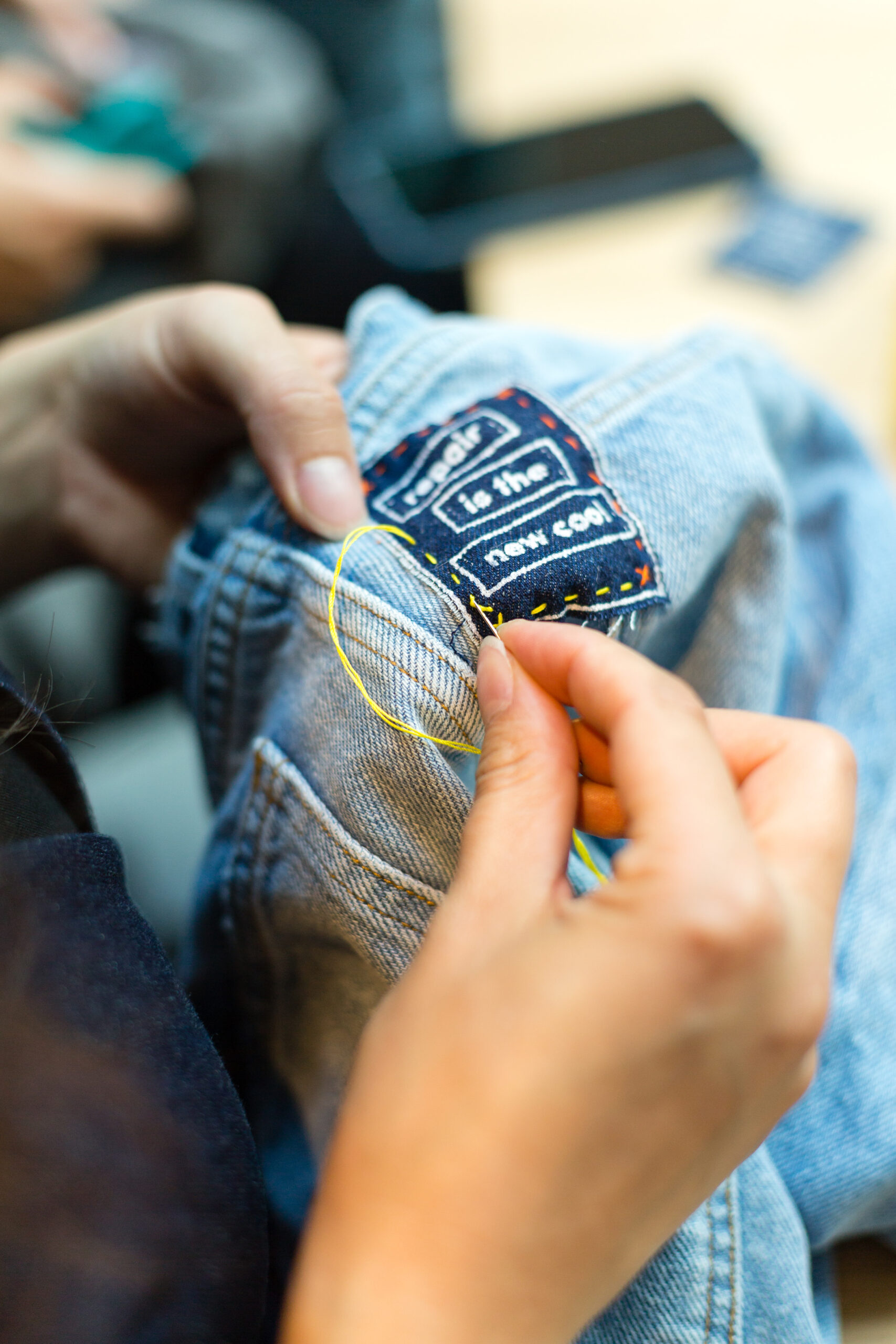 URC aims for consumer garment repair to be standard practice for the textile industry 
This month, social impact company Makers Unite and outdoor clothing brand Patagonia opened the 'United Repair Centre' (URC) in Amsterdam to perform repairs for customers across Europe. The aim is to act as an antidote to disposable clothes by making it easier for brands to incorporate repair and reuse into their business model – in turn helping counter the negative impact of the textile industry. To drive further social impact, the organisation offers employment and training to people who have challenges finding employment. The parties involved were brought together by the Amsterdam Economic Board and are supported by a consortium of Dutch investors with a focus on social impact.
Thami Schweichler, Managing Director and Co-founder of Makers Unite: "The apparel industry is at the beginning of a new era, where repairs and other new services will make more impact. We are addressing the apparel industry now, because something desperately needs to be done. For us, it's a unique opportunity to create valuable jobs and we feel it makes sense to do this with people who are currently struggling to get a job."
Repair as a solution for a responsible textile industry
The URC wants to encourage both brands and consumers to repair clothing as an attractive alternative to buying new, by extending the life of the garment and reducing its footprint. With 300,000 repairs per year the repair centre would prevent an average of 1 million pounds of textile waste. Besides Patagonia, the Dutch clothing brand Scotch & Soda has also joined the URC.
Willem Swager, Director of Finance & Operations EMEA at Patagonia says, "Structural change is needed in the textile industry. That's why Patagonia is calling on brands to not only look at more sales, but also to stimulate reuse and longer wear of clothing through repair and recycling. It needs to become normal for more clothing brands to offer this as a service and see it as business as usual."
Industry with impact
Over the past 20 years, Europeans have bought 40 percent more clothing on average, which means that the textile industry is now responsible for 10 percent of global CO2 emissions. If this continues, by 2030 global water use (79 billion m3 per year), CO2 emissions (1,715 million tons per year) and waste production (92 billion kilos per year) will have increased by more than 50 percent since 2015 and will double before 2050. Because repair extends the useful life of a garment, it has an immediate positive impact. For example, wearing a garment for nine months longer reduces the CO2 emissions of that product by 27 percent, water consumption by 33 percent and waste by 22 percent.
How the URC works
The consumer purchases a product from a URC-member brand.
Over time, the product will be in need of repair due to use.
The consumer then contacts the brand, which facilitates that the product reaches the URC.
The product is repaired by the URC.
The product is returned to the consumer by the URC and can be worn again for a long time.
Training to become a garment maker 
Starting in September 2022, and in collaboration with House of Denim, the URC will open up the United Repair Centre Academy for people who have challenges finding employment. During the training programme, they will be trained as certified garment makers and will immediately have the opportunity to work with major brands. The academy strives to train at least 300 students in the coming years.
Worn Wear Repair Tour
Repair has been part of Patagonia's business since the 1970s and Worn Wear is Patagonia's commitment to a new model for the production, consumption, and ownership of apparel—taking responsibility for its products for the whole of their lifecycle.
Dates for the tour can be found here: https://eu.patagonia.com/gb/en/upcoming-events.html.