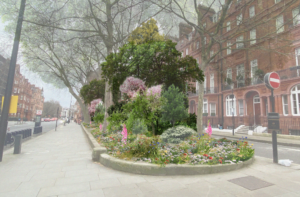 This autumn marks the launch of a new partnership between SUGi, Louis Vuitton and Cadogan, to create Central London's first 'Heritage Forest'. Located on Pont Street in Chelsea, South-West London, the project aims to restore biodiversity, reintroduce native species and reconnect people with nature.
SUGi, the globally renowned organisation dedicated to restoring 100% native forests in urban spaces, are joining forces with Louis Vuitton and Cadogan, who own and manage around 90 acres of Chelsea and Knightsbridge, to increase the neighbourhood's biodoversity and demonstrate an innovative way for businesses and landowners to work together and make an impact with environmentally responsible planting in small urban spaces.
The 240sqm pocket forest in Chelsea, close to Louis Vuitton's elegant store on Sloane Street and part of the Cadogan Estate, will see 630 native trees and shrubs (77 species) planted in total. It is intended to become self-sustaining within three years and is a blossoming example of urban rewilding and ecological sustainability, that will provide inspiration for further similar projects.
SUGi's planting will follow the complex 'Miyawaki'* methodology, giving its forests four 'layers' – shrubs, sub-trees, trees and a canopy – with at least three trees planted per sq metre. The native plants are selected based on flora and fauna research, a soil survey and vegetation report. Chelsea's Heritage Forest will see species such as Red Campion, Sessile Oak, Hawthorn and a forest floor dense with shrubbery and wildflowers to create an ideal habitat for at least 80 species of insect. By using this variety of native species, the forest will require less maintenance and watering, alleviating the need for pesticides and artificial plant foods.
Louis Vuitton is committed to contributing to the local communities in which they operate. An internal Positive Impact Committee has been created to lead projects such as this one.
Through the Maison's "Our Committed Journey" sustainable development plan, Louis Vuitton is dedicated to preserving natural resources by 2025 based on a set of quantitative targets.  In September 2021, the House's climate objectives for 2030 were officially validated by the SBTi (the Science Based Targets initiative, a partnership between CDP, the United Nations Global Compact, World Resources Institute and the World Wide Fund for Nature), which drives ambitious climate action in the private sector by enabling companies to set science-based emissions reduction targets. This further consolidates Louis Vuitton's ambitions for circular creativity and responsible sourcing, 2 of the 3 pillars of "Our Committed Journey". Acting on Climate Change is the third pillar.
Cadogan has recently launched its 10-year sustainability strategy Chelsea 2030, which maps out ambitious targets contributing to a more sustainable city. These targets outline initiatives including a roadmap to net zero, improving air quality and enhancing green infrastructure and biodiversity across the estate, including an increase in Urban Greening Factor by 25% over the next decade.
Elise van Middelem, founder of SUGi says: "The forest will be a green space for local neighbours to find quiet moments of respite and to take in the joys of nature in a vibrant and busy city. Visitors can take in the changing colours of the trees, the aromas of the blossoms and the sound of rustling leaves. Thanks to its urban location, this forest will offer not only an individual experience but a communal one. We hope it becomes a recognised source of joy for all."
Hugh Seaborn, CEO, Cadogan says: "This forest is certainly a complementary contrast to the 15 acres of more manicured gardens across the estate and our plans to make Sloane Street a dramatically greener boulevard from Knightsbridge to Sloane Square. It is vital that we try new opportunities to accelerate positive change and we believe this will be a beautiful and necessary addition, while offering inspiration for many similar opportunities – we look forward to monitoring its growth and impact in partnership with Louis Vuitton."
*The Miyawaki methodology is based on the work of Japanese botanist Akira Miyawaki, whose method, tried and tested on over 3,000 sites, has a 97% success rate for tree survival with little to no maintenance