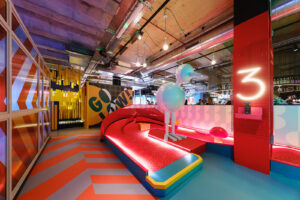 Birdies and CBRE Investment Management have announced the official opening of the immersive crazy golf experience, cocktail bar, and street food eatery, at Angel Central Islington.
The second location for the brand spans 5,558 sq ft opposite Wagamama and H&M, making it the largest to date. The focus is a 9-hole course, designed by interior architects Shed, featuring Birdies' unique array of immersive obstacles, illusions, and bold colours.
Birdies' award-winning offer also includes a curated menu of food and drink, the latter coming from a coral pink bar in the centre of the venue. The selection of specially crafted cocktails, beer, wine, and soft drinks sit alongside street food brand Cheeky Burger, who cater for vegans, vegetarians, and meat-eaters.
Nick Frow, co-founder of Birdies Angel, said: "Opening Birdies Angel is a huge milestone for us. It's our first venue in North London and marks the beginning of our expansion plans for Birdies. Alongside Angel, we have plans for a further 5 London sites over the next 3 years, and plan to take Birdies nationally, with 20 additional regional sites beyond our London plans. We can't wait to get our new North London visitors in the doors to experience the brilliant atmosphere at Birdies, and show them what all the fuss is about."
Ciara Daffy, Asset Manager at CBRE Investment Management, added: "The launch of Birdies Angel is a fantastic new leisure addition to our revitalised scheme. Their comprehensive day-to-night, experiential concept adds yet another element of dynamism to our offer and reinforces our focus on supporting truly unique operators. Birdies will provide visitors and the local community with an opportunity to have an interactive experience with friends, colleagues, or family."
CBRE represent Angel Central for both retail and leisure enquiries.