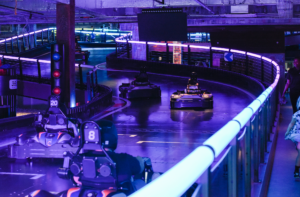 Landsec has announced the signing of Gravity Active Entertainment ("Gravity") for a 21,000 sq ft e-karting arena at Xscape Yorkshire in Castleford, as it focuses on delivering unique, all-day out experiences for guests across its retail and leisure destinations.
Known as 'GT e-karting', the new experience will feature high-powered electric karts, to create a best-in-class leisure offer that can't be found elsewhere in the region. As part of the expansion, Gravity will also add Electric Gamebox, an immersive gaming experience, and karaoke booths to the already extensive range of activities on offer at Xscape.
Gravity's expansion follows the recent successful launch of its first e-karting concept with Landsec at Southside in Wandsworth, London. Landsec revealed at its half year results in November 2021 that, since opening at Southside in August 2021, Gravity has been trading ahead of expectations, with a knock-on effect of increased footfall and sales across the centre. The expansion in Yorkshire has been made possible by a joint investment from Landsec and Gravity.
Pablo Sueiras, Head of Retail Channels for Landsec, said: "To meet the growing demand for one-of-a-kind leisure experiences and the popularity of competitive socialising, we're constantly looking at how we can bring new concepts to our destinations. As we've seen from Gravity's success at Southside, guests increasingly want to be able to try a variety of different activities all in one place, so GT e-karting will be a great new addition for Xscape Yorkshire."
Harvey Jenkinson, co-Founder and CEO at Gravity, commented: "Xscape Yorkshire has always been a special location for us, and we are delighted to be launching our unique e-karting offering here in our home site. We aim to be at the forefront of leisure offerings in the UK and can't wait to introduce more people to Gravity GT e-karting. We are at a pivotal moment in our development and are excited to see what the future has in store."
BKL Property Consultants and Pudney Shuttleworth acted for Landsec. Savills represented Gravity.