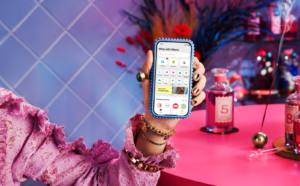 New data from Klarna, the global retail bank, payments and shopping service, reveals that Klarna's retail partners received 301 million clicks from consumers via the Klarna app globally in 2021, increasing their traffic by 2.6 times compared to 2020.
These results confirm Klarna's strategic role as a fully-fledged growth partner for its retailers globally, helping them access a network of over 100 million consumers worldwide, 16 million just in the UK.
In addition to flexible and seamless payment solutions, Klarna offers its retail partners unique and best in class marketing and media solutions, including virtual shopping, comparison shopping service, influencer marketing, a browser extension and sponsored placement and messaging in the Klarna app. Much effort has also been put into developing the in-house expertise in these areas. Instead of traditional sales teams, Klarna has small cross-functional local teams consisting of product and business managers, developers, marketers and analysts that can advise, build and develop its merchant's brands depending on their needs. 45 out of 100 top retailers in the US are currently leveraging Klarna's advertising services.
The Klarna shopping app, with over 45 million total downloads and 23 million monthly active users globally, includes special features that support consumers along the entire shopping journey, saving them time and money. As a result, the app creates value also for Klarna's retailer partners, who can connect with a loyal and engaged consumer base who choose to shop through Klarna instead of switching between apps. According to a recent study by Klarna*, 63% of UK consumers said they prefer a single shopping app that allows them to perform multiple actions instead of having to use several apps. Retail partners can also boost traffic and visibility by regularly being featured in the app through curated content and collections, promotions and deals.
Alex Naughton, Head of Go to Market for Klarna UK & Ireland commented, "Klarna is so much more than another payment solution that merchants can add to their checkout. We help retailers understand consumer behavior and we provide them with marketing solutions that help them attract new customers, grow their business and expand to new markets and thus stand out among the competition. What we offer is comprehensive support across the entire shopping experience online and offline."
*The survey was conducted in collaboration with the research agency Dynata during October 2021 and surveyed 13,594 consumers across 13 countries; US, UK, Australia, Belgium, Finland, France, Netherlands, Norway, Sweden, Italy, Spain, Germany and Austria.