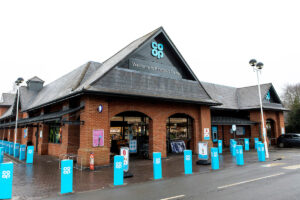 Co-op's Kington food store has re-launched following a £1Million major makeover to transform the store.
The 6,000 sq ft Crabtree Road store – which supports around 30 local jobs – relaunched on Thursday, 4 March, and runs on 100% renewable electricity.
The store includes hot food, bakery, a free ATM, express coffee dispenser, photo booth, customer car parking and, click and collect through Co-op's own online shop – coop.co.uk/shop. The Click & Collect service is from dedicated parking bays for added ease, safety and convenience. This sits alongside an increased range and choice of fresh, healthy produce, ready meals and pizzas, award-winning wines, free-from and vegan products, Fairtrade, food-to-go and, everyday essentials.
Co-op also provides a funding boost locally and saves shoppers money through its re-launched membership scheme. In addition to in-store offers, Members are rewarded with 2p in every pound they spend on Co-op branded products added to their own personal Membership account balance. The Co-op also donates a further 2p in every pound to community causes. Community groups currently benefitting include: Kington Town FC Youth Team; Kington Bowling Club and, the Radnor Valley recreation and amenity centre.
Students in Kington who are TOTUM cardholders – the new name for NUS extra – can pocket a 10% discount off groceries at the Co-op.
Simon Clarke, Co-op Store Manager, said: "The store has a great new look – we have had a fantastic response. It has been a fantastic opportunity to carry out such a significant programme of works to enhance and improve our store for the Kington community. We have enjoyed welcoming customers into their new-look store now that the extensive works have concluded. We have worked to develop the range, choice, products and services locally that will create a really compelling offer in our community.
"Co-op is committed to connecting communities and making a difference locally and so I also want customers to know that they can become a Member of the Co-op. In addition to unlocking additional value and personalised offers, our Members also make a difference to local causes, with Co-op now donating a further 2p in every pound to community causes every time a Member swipes their Membership card when buying own-branded products."
Co-op's Community Shopping Card makes it easier for those self-isolating or who have been instructed to stay at home to shop and pay for their essentials – cards can be purchased or topped-up by calling 0800 029 4592, enabling friends, families, neighbours or volunteers to shop on their behalf in store.
Contactless card payment limits are increased to £45, making it easier, quicker and safer to shop.
Co-op has around 4.6M active Members, and alongside Food, it operates: Co-op Funeralcare, Insurance, Health and Legal Services.  More information about the benefits of Co-op Membership is available by visiting https://www.coop.co.uk/membership