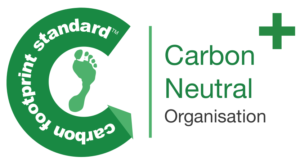 On 8th July 2021, KGK Genix received a certificate from Carbon Footprint, to announce they have achieved carbon neutral status.
Working with carbon emission offsetting specialist, Carbon Footprint, KGK Genix have been assessed from 1st April 2021 to 31st March 2021 and as a result planted 138 trees to offset 138 tons of CO2e emissions generated from building energy, company cars, van travel, commuting, public transport and homeworking.
KGK Genix have also made significant changes in their office and machinery areas by changing lights to LED panels along with using LED curing, water-based inks in their print processes, upgrading company cars to complete electric models and reducing movements between premises. They have also researched and developed a complete range of sustainable material alternatives to those traditionally used to help and advise clients to making more environmentally friendly choices.
"We're really proud to have been granted carbon neutral status, it means a lot to the business, the team and of course our clients." says Graham Pitts, Operations Director at KGK Genix. "We will continue to make changes to our business and processes to be more sustainable, just like our overall aim to have a number of 'green' alternatives for every single material that we currently offer. We really feel that by achieving carbon neutral status we have taken another important step towards a much greener future for our industry."
The company will not stop here and promises to strive for a more sustainable future and continue to invest in new technology and processes to support this.