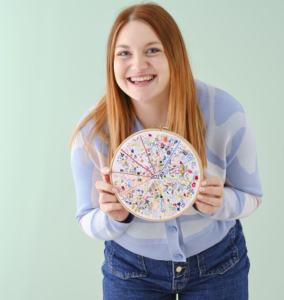 Artisan colleague Katherine Lucy has launched a 'Year of Stitches' Embroidery Kit – with all profits go to the Artisan
Hobbycraft's Artisan programme has been built to maximise colleagues' talents and give them the tools and skills they need to grow and fulfil their passions. Whether it is growing their own businesses, building social media presence, working on their confidence to host some of Hobbycraft's workshops, or giving them the chance to design and create their own lines to sell.
The arts and crafters retailer now has 113 Artisan colleagues across the business and to date, 22 Artisans have designed and sold products at Hobbycraft, with all profits going to the Artisan.
This month, Hobbycraft has announced the launch of a 'Year of Stitches' Embroidery Kit priced at £8.00, and with all profits from the sale of the kit going to the Artisan creator. The kit offers a creative way to capture all the special moments in your life through craft. The new kit was designed by one of Hobbycraft's Artisan's: Katherine Lucy (@katherinelucycreates), who initially created a Year of Stitchespersonal project in 2019 and then went on to create one for the for the Hobbycraft Ideas Hub in 2021. When shared on Instagram by Hobbycraft the project gained a cult following, with customers creating their own Year of Stitches hoops, and to date the project remains a firm favourite with Hobbycraft customers across their social media channels.
To meet customer demand, this kit has been introduced and is perfect for embroiderers of all skill levels as it features printed guides to inspire stitch designs. It also includes a basic embroidery stitch step-by-step to help beginners looking to practice their stitches, as well as a 9" embroidery hoop, an embroidery needle, a cotton fabric square, and a heat erasable pen.
To support Artisans such as Katherine in their entrepreneurial journey, last summer, Hobbycraft set up a panel of its Senior Management team for its 'Artisan' colleagues to pitch their product ideas with the chance to have their own ranges sold at Hobbycraft.
In addition to Katherine's embroidery kit, Peterborough Artisan: Adele Busby introduced a Colour-In Canvas range, Chesterfield Artisan: Bethany Salt introduced a fabric range which sold out within the first week of launching, and Brighton Artisan: Sam Lane created a series of crochet patterns.
Katherine commented: "I am overjoyed to see my Year of Stitches creation transform from a personal project to an actual kit which customers can buy and use. I hope my kit inspires people to get creative with their memories, believing each stitch will represent something that has happened to them – for example, stitching a firework for New Year's or a pumpkin for Halloween. The kit can be enjoyed or started at any time of the year, and crafters can either add a small stitch every day or save it for the big occasions."
The 'Year of Stitches' Embroidery Kit, priced at £8, is available both in-store and online now.