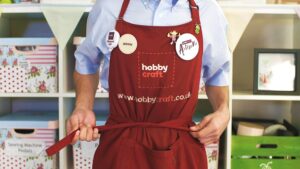 Hobbycraft has set up a panel of its Senior Management team for its 'Artisan' colleagues to pitch their product ideas with the chance to have their own ranges sold at Hobbycraft.
Hobbycraft launched its Artisan programme last year, to maximise colleagues' talents and give them the tools and skills they need to grow and fulfil their passions. Whether it is growing their own businesses, building social media presence, working on their confidence to host some of Hobbycraft's workshops, or giving them the chance to design and create their own lines to sell.
The event was hosted following the successful launch of three Artisan colleague ranges, to give other colleagues the opportunity to do the same. Previous ranges include Chesterfield Artisan, Bethany Salt's, tropical fabric collection which sold out in just two weeks, Swindon Artisan, Sam Lane's, crochet patterns and Peterborough Artisan, Adele Busby's, range of Colour-In Canvases.
Hobbycraft is looking at placing a further 19 ranges onto shelves later this year, which came off the back of the panel event. The day saw Artisan colleagues pitch their creative product ideas – from craft organisers, cross-stitch kits and sketchbook designs to cake decorating books.
There are currently 54 Artisan colleagues, with the aim to reach 100 by the end of the year.
Dominic Jordan, CEO at Hobbycraft comments; "Our colleagues make Hobbycraft the leader in the market and this fantastic initiative helps us to further nurture our colleagues and develop their amazing talent and skills, all while delivering the best possible experience for our customers. We have pledged to grow the Artisan programme and are looking forward to developing a robust programme that supports our creative colleague's growth and development."