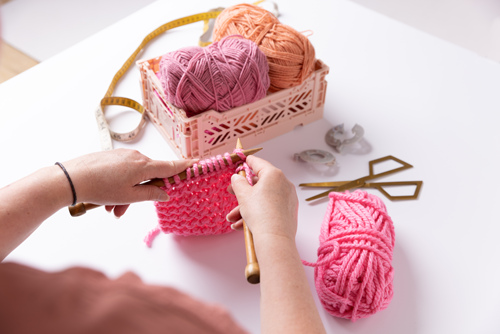 Photographer credit: Emily Jane Morgan @morganemilyjane
To support the UK's cohort of passionate professional crafters, Hobbycraft, the UK's biggest multichannel arts and crafts retailer, has launched Hobbycraft Plus; a unique UK subscription service that provides growing craft businesses or dedicated crafters, a great-value package which delivers cost savings alongside targeted support and advice, to help small businesses flourish.
Costing £80 per year, whilst delivering over £170 of cost-savings* and activities, the Hobbycraft Plus subscription includes:
o   Annual 15% discount on the Hobbycraft range in-store and online (exclusions apply)**
o   Upgrade to FREE next day delivery on orders over £25
o   3 FREE seminars focused on helping you grow your business
o   Access to bulk product and packaging.
o   Quarterly seasonal newsletter
Hobbycraft is also giving Hobbycraft Plus subscribers the chance to win a £500 Hobbycraft gift card. Subscribers simply need to sign up before 31st December 2022 to be entered into the prize draw***.
The team at Hobbycraft have a simple mission for Hobbycraft Plus which includes:
o   Reducing costs for would-be craft professionals, via the always-on 15% discount – both in store and online
o   Making pro-crafters' lives easier – via fast, free product delivery to anywhere in the UK
o   Supporting crafters to make their business a success – via expert-led marketing focused seminar and webinars
Katherine Paterson, Customer Director at Hobbycraft comments: "We are delighted to be launching Hobbycraft Plus this month – our objective is quite simple, we want to support would-be professional crafters to make their dreams a reality and avid crafters who simply like to make lots. The service works out at under £7 a month and through the incredible workshops, seminars, and discounts, we look forward to helping our customers make the transition from hobby crafters to professional crafters." 
Watch a short video from Katherine about the service here: https://youtu.be/r9mkUAln6ss
To help shape the new subscription, Hobbycraft Plus has been built in collaboration with key third party businesses within the crafting community, to ensure the best service possible for would-be professional crafters.  These collaborators include:
o   Untld Project, an independent PR and marketing agency specialising in independent creative and crafty brands.
o   Folksy run an online marketplace that sells handmade products and Pedddle, a directory of over 180 independent, creative markets.
Untld Project have co-developed and will host independent business seminars for Hobbycraft Plus subscribers. Members will receive three sessions of their choice for free as part of their subscription and be able to book on to additional sessions at a cost of £30. The seminar programme includes:
Introduction to PR (1.5 hours): Customers will learn all things PR – from the type of coverage they should expect, how to achieve it and demystify how to get their products or services on the pages of magazines.
How to promote a small business on social media (1.5 hours): This seminar will re-introduce customers to the social media platforms we all know and love, but with the small business owner in mind, so they can ensure they are making minimal effort with maximum results when it comes to promoting their brand.
Introduction to marketing a small business (1.5 hours): In this session, the host will delve into the world of marketing and show how to share your brand with the world without relying on social media – from newsletters and SEO to blog writing.
Customer service with a smile (1.5 hours): From focusing on the positives, to setting up a fool proof customer escalations process, this workshop will teach you everything they need to know about how to wear your customer service hat with a smile.
TikTok for small business (1.5 hours): During this session, the host will deep dive into the fastest growing social media platform, show how TikTok shop works and demonstrate how you can even get paid for posting videos.
Watch a short video about the seminars here: https://youtu.be/iWYrs47oj6E
Folksy and Pedddle are teaming up with Hobbycraft to host free business focused webinars for Hobbycraft Plus subscribers:
How to sell on a marketplace with Folksy (1 hour): A run through on what selling on a marketplace entails and what it can offer an independent seller. It will showcase the fees involved and what this includes, as well what you can do to support your selling page.
How to streamline how and where you sell in person markets with Pedddle (1 hour): A run through of the benefits of listing on Pedddle – the simple way to get booked onto popular in-person markets. Linking to over 180 market organisers, this provides a simple and easy way to ensure you are booked in and ready to trade.
* Worth over £170 assuming £45 discount on £300 annual spend, 3 seminars at £30 each, 6 Next Day delivery charges.
** Excludes digital craft machines, printers, sewing machines, Made to Measure Patterns, workshops, subscriptions and gift cards. Please visit www.hobbycraft.co.uk/plus-terms 
*** Full giveaway terms and conditions can be found here www.hobbycraft.co.uk/plus-terms  
Share this story