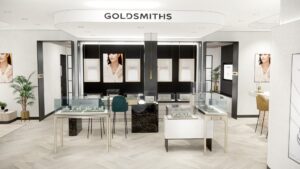 Victoria Square, a leisure and retail destination positioned in the heart of Belfast, has announced luxury watch and jewellery retailer, Goldsmiths, is set to expand its new showroom, following its continuing success at Victoria Square.
The new and expanded Goldsmiths, located on the Upper Ground level, is due to launch in June 2022 and will reveal a dynamic new design and shopping experience. It will be the first new concept Goldsmiths showroom to launch in Northern Ireland.
Set to solidify its home at Victoria Square, Goldsmiths, which is owned by the Watches of Switzerland Group, will be upsizing to a 2,680 sq ft space. This move extends its presence with a portfolio of world-renowened brands within the showroom.
The Goldsmith's showroom expansion news coincides with reported strong performance figures at Victoria Square over the second half of 2021 with sales up by 3.3% in December compared to the same period in 2019.
Craig Bolton, Executive Director of the Watches of Switzerland Group said: "The new  Goldsmiths showroom not only extends our presence within the city of Belfast and enables us to create an in-store experience that consumers can enjoy. Following Victoria Square's  high performance over the last few months, we are looking forward to witnessing the true potential of the new showroom."
Commenting on the upsize, Russell Banham, UK Head at Commerz Real, added: "Goldsmiths are a valued member of our retail offering at Victoria Square and we are excited to have worked with the brand to help deliver their new concept showroom. The success of brands, such as Goldsmiths, is a clear marker of the positive performance we experienced at Victoria Square during the second half of 2021.''
Lambert Smith Hampton and Savills are joint agents for Victoria Square. Victoria Square is managed by the Lambert Smith Hampton's Belfast office. Watches of Switzerland (on behalf of Goldsmiths) dealt direct.