Gift card sales see significant rise as consumers buy for loved ones in lockdown
Research shows at least 1 in 4 gifts now more likely to be "pinged" than posted
Shoppers urged to treat themselves with gift cards in lockdown; many of which can be spent online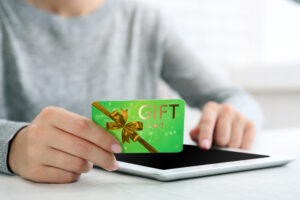 A Christmas spent living under COVID-19 restrictions has sparked a significant shift in the public's gifting habits, according to data released by the Gift Card & Voucher Association (GCVA) working with GlobalData.
A survey of 2,000 members of the public has revealed that one in four Brits (25.2%) purchased gift cards for others in December, compared with 17.9% in November, with over a third of these (34.1%) directly highlighting lockdown restrictions as their reason for doing so. Furthermore, leading brands such as Tesco Bank have reported a surge in gift card sales – particularly digital gift cards, which can be sent, received and spent through smartphone apps – over the Christmas period.
Targeted, single-store gift cards were the gift of choice in December over multi-store alternatives, with 56.4% of gift card buyers purchasing single-store cards, compared with 32.4% for multi-store cards, indicating a thoughtful, considered approach to gifting from the public. Gaming gift cards also saw a notable uplift, with 11.3% of gift card buyers purchasing, compared with 7.9% in November, which is demonstrative of gaming's continued popularity as a hobby during lockdown.
In 2020, GCVA figures revealed that digital gifting now represents 26% of all UK gift card spend, rising to 50% accounting for all gift cards spent online. Given Christmas was the most popular gifting occasion in 2019, representing 41.7% of total gift card spend according to GCVA research, the suggested move to digital this past Christmas may be indicative of a more long-term shift in the public's gifting habits.
The trade body, which represents more than 80 of the UK's largest retailers, issuers and suppliers, is now urging the public to spend any gift cards they may have received this Christmas; both treating themselves to a lockdown lift while providing a boost to the high street.
Gift cards swelled in popularity throughout 2020 as the UK sought to lift the spirits of loved ones in isolation. GCVA research found that gift cards were in fact preferred to physical gifts in the first lockdown, making up 14% of total gifting spend, compared with physical gifts at 12%.
Gail Cohen, director general of the GCVA, commented: "It has been great to see shoppers overcoming lockdown challenges and supporting their favourite brands by opting for a gift card Christmas.
"Over the past year, the rise of digital gifting solutions in particular is driving a major change in how we send and receive gifts, meaning they can be shared and enjoyed almost instantly, offering a safe way of gifting that still offers that truly personal touch. That said, physical gift cards having performed strongly too indicates the importance of retailers continuing to offer that tangible solution that consumers can still "unwrap" on the big day.
"If you did receive a gift card for Christmas this year, whether physical or digital, don't just leave it in the bottom drawer and forget about it. It's not a savings product, it is there for you to treat yourself, and what better time could there be to give yourself a boost than now? Many gift cards can be spent online from the comfort of your home, so log on and start spending!"
Ban Mahsoub, head of gift cards at Tesco Bank said: "We're proud that our digital gifting service has been helping our customers give meaningful gifting experiences at a time when many have been unable to get to the shops or visit loved ones.
"We know from customer insight and independent research that digital gifting is becoming an increasingly popular way of giving the perfect present, particularly to those hard to buy for friends and family. The recently launched service combines personalisation, digital unwrapping features and flexibility with some of the biggest brands in retail and entertainment, offering our customers even more options."
For more information, visit www.gcva.co.uk