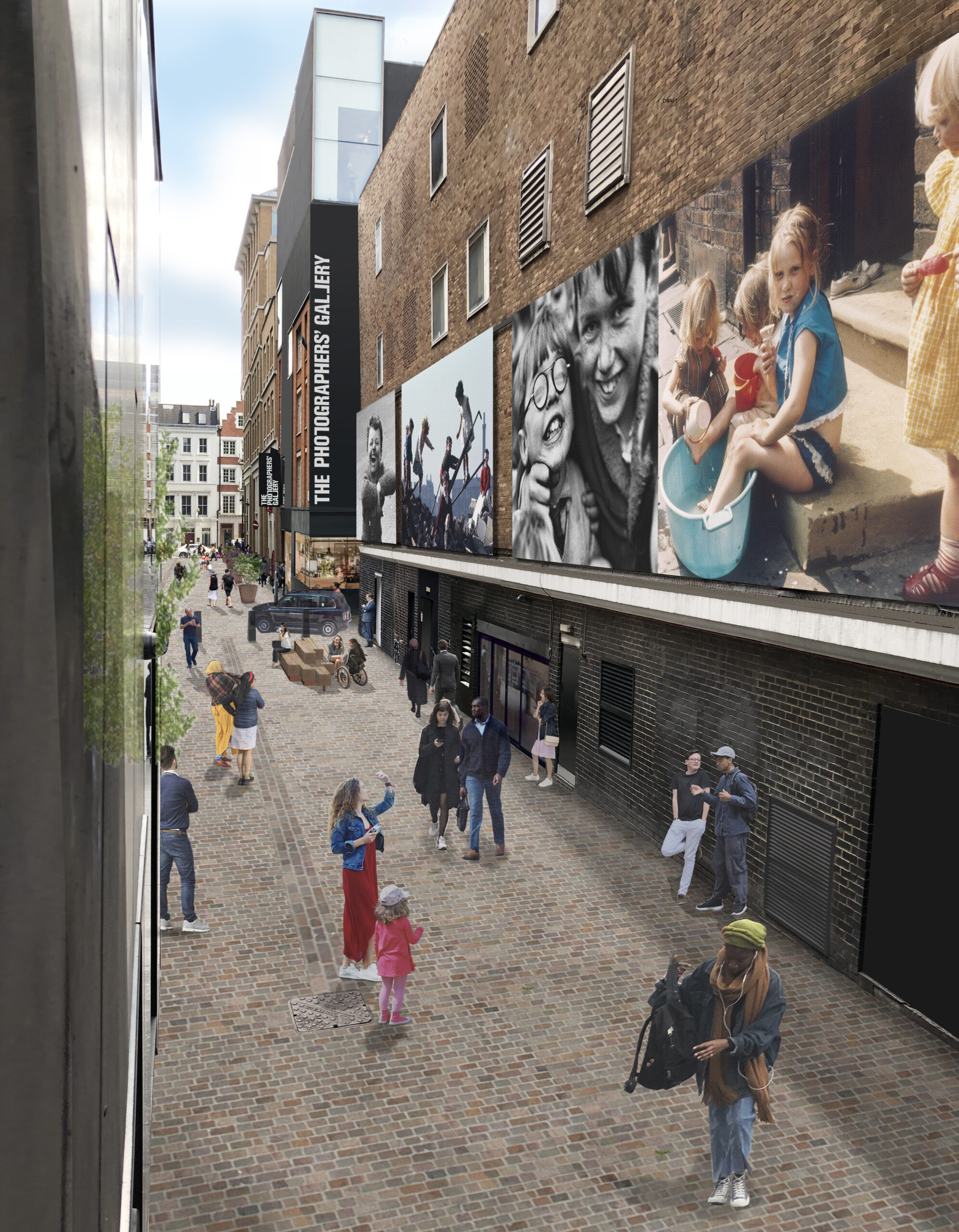 CGI credit: Andreas Lechthaler Architecture.
Soho Photography Quarter is first permanent part of £150m reinvention of the Oxford Street District
Work follows start-on-site of temporary interventions on Oxford Street to encourage visitors back after lockdown
Reimagining of Oxford Street District aims to futureproof the iconic shopping and cultural destination
Work to transform a corner of the Oxford Street District into a cultural destination has begun.
The Soho Photography Quarter is the first permanent element of the council's ambitious £150 million plans to transform Oxford Street and the surrounding area to get underway.
The project will see Ramillies Street, Ramillies Place, Hills Place and a small section of Great Marlborough Street transformed into a 'Gateway to Soho' and a cultural attraction in its own right.
Drawing upon the legacy of Soho as a vibrant cultural hub, the Quarter will act as an open-air gallery space for the public with an annual programme of light projections and large-scale art lining the streets introducing a sense of vibrancy and spectacle to the area.
Additional seating, greening and a multi-layered public arts programme will encourage people to enjoy the area and its unique character. Together with the new cultural offer, the combination of measures will create a more peaceful and relaxing place for people to take time away from the hustle and bustle of Oxford Street.
The area will feel safer, encouraging visitors to pass through, and enabling those taking in the atmosphere, artistic animation and sounds of the district to experience it fully.
The Soho Photography Quarter reflects the wider vision for the district by making the area more inviting, enhancing access for pedestrians and cyclists, improving safety and air quality, and boosting the cultural offer.
Debbie Jackson, Executive Director of Growth, Planning and Housing at Westminster City Council said: "Our vision for the Oxford Street District sets out to reinvent the nation's high street.
"We want people to enjoy the time they spend in Oxford Street, to discover new and interesting experiences around every corner. The Photography Quarter will turn this relatively unknown part of our city into a canvas for creatives to surprise and delight visitors from across the globe."
Last month the council launched its framework for the Oxford Street District, which will serve as the blueprint to reinvent the high street for a post pandemic recovery and, crucially, for the longer term. It reimagines the nation's favourite high street through the following themes; greener, smarter, future and together to create a globally competitive centre for innovative retail, commercial activities, culture and living.
Recognised worldwide as a leading shopping and cultural destination and attracting around 200 million visitors in a normal year, Westminster City Council is leading a coalition of partners to reinvent the area and deliver further improvement projects. From the outset, the plan is focused on a strong economic recovery and adaptation – ensuring businesses and communities have the best possible conditions to safely reopen.