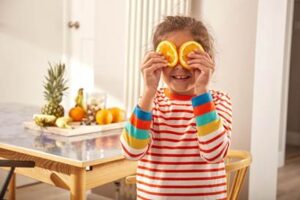 Sustainable children's clothing brand launches new website with updated design and customer product reviews
Frugi, the ethical and sustainable children's clothing company, has launched its brand-new website this week. Like Frugi itself, the website captures the fun and liveliness of the brand, featuring new collections along with firm favourites. Its bright and vibrant features incorporate the brand's vision of building a colourful future.
Frugi's website has been upgraded for a best-in-class digital selling experience, offering flexible, scalable eCommerce solutions with future opportunities to extend the Frugi platform to create unique and differentiated branded experiences.
The latest design allows for a simple mobile shopping experience, where customers can browse and buy all their Frugi products with ease. The new website makes it even easier to find the Frugi products customers are looking for, whether its babies and toddlers, kids, or grown-ups.  New functionality means the website will recommend the best products to go with shoppers' Frugi favourites. With so many funky and colourful designs to choose from, product recommendations mix and match across all of Frugi's collections. Moreover, the new design allows customers to explore Frugi's newest Spring Summer '22 collection, where the brand has gone back to its roots in Cornwall to gather inspiration.
The new website also offers genuine customer product reviews, helping to expand the Frugi community through happy customers with tried-and-tested clothes. These reviews mean shoppers can continue to buy the clothes that let kids be kids with confidence. This is supported by convenient payment methods on the website, where customers can use Google Pay, Apple Pay, or Buy Now Pay Later platform Klarna.
Lastly, the new site has been updated with more fun and creative downloadable activities for kids as part of the Frugi Time content. Downloads and home activities have become such an important part of Frugi's content since the pandemic as parents turn to Frugi as a trusted source of entertainment and learning for their children at home and in the outdoors. The latest content invites kids to create a colourful rainbow door sign, postcard or wishing wand or they can simply select from other popular categories, such as colouring, mazes, games, word searches, crafts, recipes, eco-heroes, back to school, out-and-about, and more.  During the Covid year, the demand for Frugi downloads increased +683% as people needed to keep little ones busy at home.  Frugi experienced an increase of 50,000 downloaded activities in 2020 alone!  This demand has increased even more in 2021 as activities were extended to Instagram lives and engaging craft 'how-to' videos by well-known influencers.
Sarah Clark, CEO, said: "We love that our new website captures the essence of Frugi, always bright and colourful, as well as practical.  The website's new features, including customer reviews, easy mobile navigation, and convenient payment methods allow our customers to browse and buy with ease and confidence.  It showcases our story, vision, and ethics in a fun and functional way, as well as showcasing our clever designs and the extra Frugi magic in our ranges.  We are also delighted to see such strong engagement with our content and children's activities, and to be adding real value to quality family time".