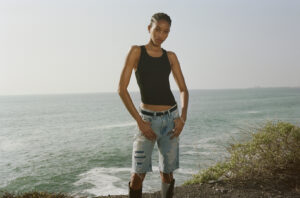 FRAME have partnered with London studio Isabel + Helen to design an exclusive Selfridges pop-up and window display from the 3rd March 2022
FRAME launches cleanest denim line ever with 10-piece collection that uses virtually no water
Traditional denim uses 80 litres of water, FRAME's PURE collection uses 1.25L
FRAME launches exclusive Selfridges pop-up and window display to introduce new sustainable collection PURE, a ten-piece collection featuring washes that use virtually no water in their production, marking the latest innovation in sustainability and FRAME's cleanest denim line ever.
FRAME has partnered with London studio Isabel + Helen to design an exclusive Selfridges pop-up and window display. Differing from the usual FRAME store window design, the Selfridges display uses mushrooms as their visual concept as they create something organic, pure, natural and earthy to perfectly reflect the environmentally friendly denim collection.
The pop-up store will feature custom Johan Viladrich curved rails, as well as beautifully curated mushroom figures made using laser-cut aluminum sheets slotted together in a circular formation, to create the mushroom shape. All encompassed by a display of floating FRAME jeans, pinned together and suspended from the back and side walls.
Committed to sustainable and responsible production FRAME's new water-saving PURE denim preserves nature's most precious resource by using a unique, virtually waterless wash process. Made entirely in eco-conscious facilities in Los Angeles to reduce carbon emissions, PURE minimizes our impact with state-of-the-art technology and responsible production — setting a new standard for luxury denim that puts the planet first.
Traditional denim uses as much as 80 litres of water on every garment. By replacing water with sophisticated lasers and eco-friendly finishing agents during the wash process, PURE's unique closed system uses only 1.25 litres—all of which is recycled, evaporated, or repurposed. Each piece is then finished with partially-recycled hardware and QR coded care labels that share PURE's approach to limited environmental impact.
The collection will be stocked exclusively at Selfridges and will also be available to shop online on frame-store.com, with prices starting at £265 from 28th February 2022.
The FRAME pop-up went live on 28th February, with the Selfridges window live on the 3rd March 2022.