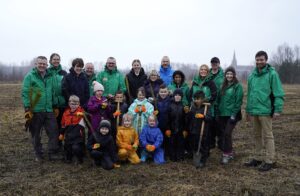 Forestry England and DPD have announced a four-year partnership to plant and restore woodland across England to tackle climate change and create positive benefits for local wildlife and communities. The partnership will focus on four separate woodland sites where DPD support will enable Forestry England to plant trees to create new woodland areas and carry out work restoring valuable established woodlands.
The partnership was officially launched at Colliers Wood near Manchester, the first site which will benefit from DPD's partnership support. This urban woodland covering just over 136 hectares is a much-used community green space on the site of a former coal mine. More than 4,000 new trees will be planted to increase the biodiversity of the woodland and expand the existing tree cover.
Local children from St Gabriel's Catholic Primary School joined Forestry England and DPD representatives to plant the first saplings, and the rest of the new trees will be planted during the winter of 2022. Forestry England will create opportunities for the local community to get involved with the planting and ongoing work to look after the woodland as the new trees mature.
Other sites across England will benefit from DPD's support, including Pleasant Forest in Kent, a new 127-hectare woodland which Forestry England is creating. At Dimmingsdale in Staffordshire, restoration work will be carried out to replace trees affected by disease and in Hamsterley Forest, County Durham, a new woodland for wellbeing will be created, with 100 ornamental oak trees, a timber shelter and seating to provide a new accessible space for visitors.
The partnership announced today will mean a significant increase in the tree planting programme Forestry England is embarked on and builds on a strong existing relationship between Forestry England and DPD. Since 2020, DPD have worked with Forestry England to restore Dorset's Wareham Forest following a devastating fire. The partnership will include DPD staff engagement opportunities, offering wellbeing benefits to the company's workforce and access to Forestry England resources. In addition, DPD staff will have the chance to volunteer at some of Forestry England's sites close to where they live and work.
DPD's donation will be made from its Eco Fund, part of the company's wide-ranging sustainability programme.  The DPD Eco Fund is funded solely by the firm's circular economy initiatives. Plastic shrink wrap used throughout the operation is broken down, and then recycled to create new shrink wrap.  The money generated from this, along with the recycling of wooden pallets, goes straight into the Eco Fund to fund sustainable projects benefiting the environment.
Josephine Lavelle, Forestry England Director of Marketing and Engagement, said: "We're delighted to continue our work with DPD and together we're set to make a tangible difference in the urgent fight against climate change and the stark decline in biodiversity. Over the next four years, this partnership will enable us to create flourishing wildlife habitats, increase carbon storage and plant a woodland for wellbeing to allow people decades ahead to benefit from a positive connection with nature. Working with a company like DPD with clear environmental values and a commitment to putting those in action means we can work at scale, plan for the long-term and do more to ensure our forest landscapes thrive."
Tim Jones, Director of Marketing, Communications & Sustainability, DPDgroup UK commented: "At DPD we challenge ourselves to be greener and more sustainable at every level, from delivering clean and green to 25 of the largest towns and cities in the UK with our rapidly growing fleet of EVs, to changing our own parcel bags to 80% reclaimed material and 100% recyclable.  Having our own circular economy means we can generate eco funds to directly back initiatives like this.  Working with Forestry England has given us an insight into the challenges they face, and we are very proud to support them and work alongside them in this way."