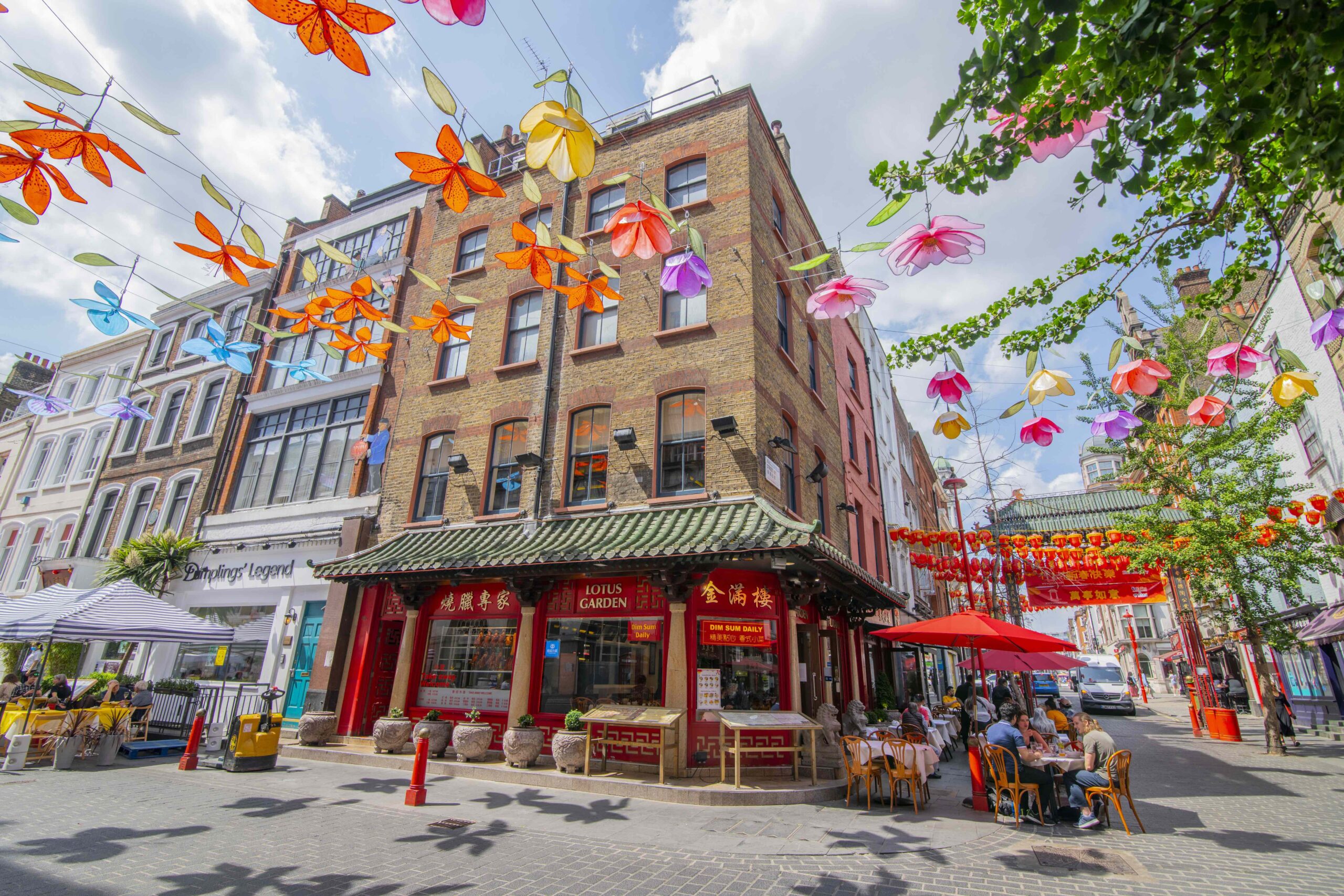 London Chinatown Flower Installation photograohed by Jamie Lau.
Shaftesbury has unveiled an immersive and vibrant Botanical Garden installation, transforming the sky across Chinatown London's Gerrard Street. Inspired by tranquil inner-city gardens that can be found across East and Southeast Asia (ESEA), the installation will float above diners until the end of August.
Showcasing seven different species of flower, Chinatown London's Botanical Garden installation celebrates cultural symbolism and the significance of each flower, including Chinese Peonies, Peach Blossom, and Orchids. The installation pays homage to edible plants and flowers that are featured within many Far Eastern dishes, with tenants across Chinatown London creating a variety of special 'Botanical Garden' dishes – from root to bloom.
The flowers will be a budding welcome back to visitors, celebrating the start of the summer months ahead. The installation will add to Chinatown London's outdoor dining experience, with a choice of 40 al fresco restaurants as well as 150 outdoor seats in Newport Place to enjoy takeaway options.
Karen Baines, Head of Group Marketing and Comms at Shaftesbury, commented: "Chinatown London offers an authentic view of life in the Far East, a home away from home for many and a destination of discovery for others. The focus here always has been to provide visitors with an insight into time-honoured aspects of tradition from across the ESEA region, both in dining and culture. The Botanical Gardens play an important role, serving as a relaxing and visually stunning spot to enjoy the outside throughout the summer months, reflective of the places Chinatown London represents."
Further information can be found @ChinatownLondon and www.chinatown.co.uk.