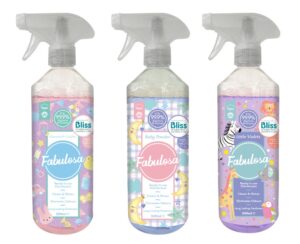 Fabulosa, the fragrance led lifestyle and cleaning brand is delighted to announce the expansion of their Bliss Charity range of products as their partnership goes from strength to strength.
Earlier this year, Fabulosa created an exclusive range of 'baby inspired' scented products including 'Little Violets', 'Baby Powder' and 'Chamomile Cuddles' and more than £12,000 has been raised for the charity though online sales of the range.
In a bid to raise even more awareness and funds for the charity, Fabulosa is expanding the Bliss range to include a 500ml multi-purpose anti-bacterial trigger spray in 'Baby Powder' and 'Chamomile Cuddles'.
The Bliss products, including the 500ml sprays and 220ml concentrated disinfectant, will be hitting the shelves in Home Bargains by the end of September.
Jen Sharpe, Fabulosa's Co-Founder and Chief Fragrance Officer said, "Having Bliss as our charity partner means so much to us here at Fabulosa. We are a family brand and are inspired by the amazing work Bliss does for babies born premature or sick and their families. We know our customers are going to be so pleased to see the Bliss range stocked on the shelves of Home Bargains, and we will be sending Bliss another large donation before the end of this year."
Adam Burnett, Fabulosa's Group Marketing Director, also commented, saying, "The exclusive Bliss products have been one of our top selling collections online this year and we are excited about expanding the special range in Home Bargains. Customer feedback has been wonderful and we look forward to raising even more awareness and funds for Bliss in the years to come."
Caroline Lee-Davey, Chief Executive of Bliss said: "Our partnership with Fabulosa has really helped raise awareness of the work Bliss does to support babies and families with a neonatal experience, and we are excited to see the new range of products in Home Bargains. Our life-saving work wouldn't be possible without Fabulosa and all of our corporate partners. Everything we do at Bliss is focused on giving babies the best chance of survival and quality of life, and every donation helps make this possible. We're so grateful to Fabulosa for choosing us as their charity partner and to all their customers for purchasing the Bliss products."
For more information, visit: https://myfabulosa.co.uk/