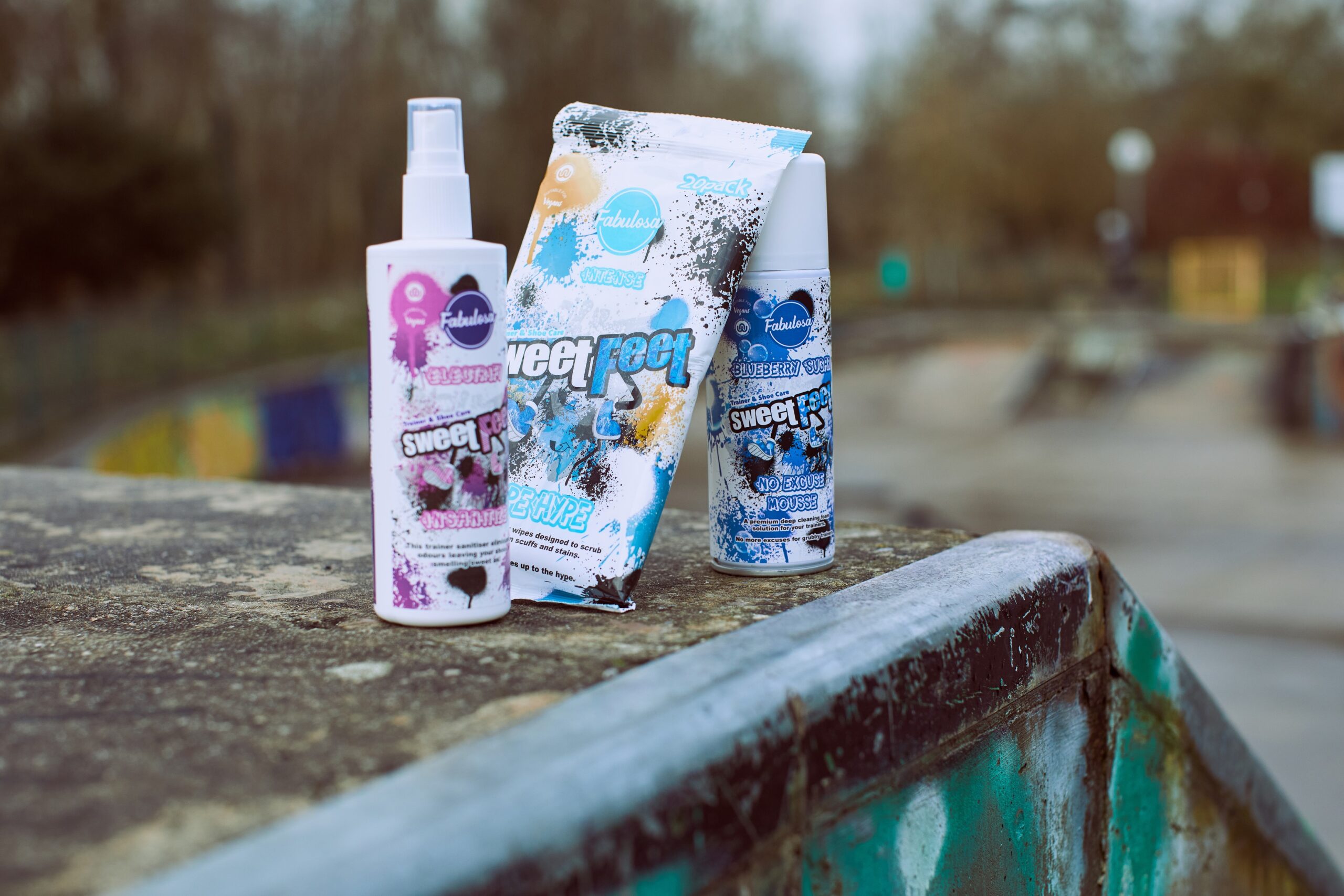 Fabulosa, the fragrance-led home and lifestyle brand has expanded into a new sector with the launch of a premium trainer and shoe care collection, Sweet Feet.
The latest line of innovation is available in three of Fabulosa's most popular fragrances – Intense (inspired by Abercrombie and Fitch, Fierce), Electrify (inspired by YSL Black Opium) and Blueberry Sugar.
Bursting with fragrance, the range includes Wipe Hype premium trainer wipes, No Excuse Mousse deep cleaning foam solution, Insanitize sanitiser and odour eliminator, Fresh Tredz specialist trainer and shoe freshener and Rain & Stain Brain, a super-hydrophobic spray that creates an invisible coating to repel liquids and prevent stains.
Adam Burnett, Group Marketing Director at Fabulosa commented on the launch: "The Sweet Feet collection is an exciting addition to the Fabulosa product range. As a fragrance-led brand, we are not bound by the limitations that many cleaning brands face and we have the ability to transcend multiple categories with our products.
"If a product can benefit from a fragrance, we will continue to innovate and grow beyond our core product range to disrupt and deliver, revitalising other sectors."
The Sweet Feet range is available now in Poundland.
Established less than three years ago, Fabulosa has had a meteoric rise. First launching into the mature household cleaning category in 2019, Fabulosa has been rapidly taking market share. It's not only achieving more liquid volume share than all other liquid disinfectants brands, but with its unique prolific new product development (NPD) drive, the business has recently become the UK's number one privately-owned brand in the entire cleaning market, by volume and value. (Kantar 52 w/e December 26th 2021)
Fabulosa has supplied over 100 million units and launched more than 150 exciting fragrances since its launch, which are custom made by Fragrance Oils International who are owned by the world's largest perfumery and fragrance specialist Givaudan based in Geneva. Fabulosa's vast range includes Surface Care, Air Care, Laundry Care and Task Specific ranges including car care and garden care.
For more info on Fabulosa, please visit: https://myfabulosa.co.uk/