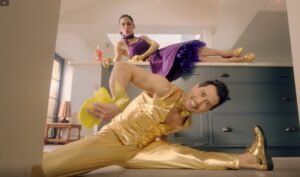 As part of a £1 million plus investment, home cleaning sensation Fabulosa will be unveiling its first TV commercial on 15th March, previewing in the ITV Breakfast North ad break with a 30 second slot.
The campaign which will run until July, will be tested in the Granada region, before being rolled out nationally across the wider ITV network.
The ad features fun and engaging creative with high-energy dancers sharing their best moves, whilst beautifully cleaning a home with Fabulosa.  The accompanying music track is a parody of the original Diana Ross classic 'I'm Coming Out', with a modern twist.
Overseeing this latest marketing investment is highly experienced Group Marketing Director, Adam Burnett who joined the business with an impressive grocery and retail background at the end of 2020.
Adam comments; "We had huge fun making the ad, and we are excited to hear the feedback from our loyal customer base.  The campaign mirrors the brand's unique insight and proposition that consumers are eager for the uplifting feeling that cleaning brings to your daily life instead of being a chore that you dread having to tackle. We believe that people are looking at cleaning to offer them an enriching and exciting experience – with an endless choice of wonderful fragrances to match their room and mood."
White Noise TV directed and produced the commercial, working closely with the in-house marketing team to develop a concept that would grab attention and convey the key values of the products, particularly the vast range of fragrances. These values can be summed up in the 'Fabulosa feeling,' a feeling of euphoria that makes cleaning a joy instead of a chore.
Adam continues: "The creative concept served to illustrate 'That Fabulosa Feeling' in the most energetic and entertaining way possible. West End and well-respected film dancers Tommy Franzan and Jess Khan-Lee, a couple that have partnered for many years and have both choreographed and appeared in major TV and film roles, including Mamma Mia and Strictly Come Dancing are featured in the production as the lead dancers, supported by three backing dancers dressed in gold 80's hip hop outfits and these in turn were supported by more than 20 background artists."
Performance Media were commissioned as the media agency and Tadah Media to produce the soundtrack.
James Sharpe Co-Founder of Fabulosa explains: "The upbeat, fast moving party vibe embodies the sheer essence of Fabulosa.  Consumers, were and continue to be, hungry for new exciting fragrances, and are looking for their cleaning products to lift more than dirt alone. They want their spirits to be lifted, for them to feel invigorated and be proud of the finish they have achieved, delivering a grime and germ-free result, and a wonderfully fragranced home to be proud of. They want excitement!"
Founded by household products manufacturer Mike Sharpe, and his son and daughter-in-law James and Jennifer Sharpe, the company's ability to tap into consumer needs has seen Fabulosa growing exponentially in its first years of operation, and the brand's reach now extends to Europe, Australia, New Zealand and the UAE.