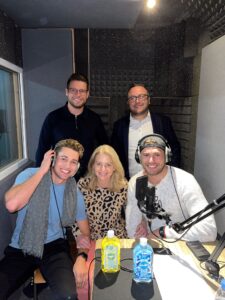 Fragrance-led home and lifestyle brand, Fabulosa has teamed up with dancing sensations AJ & Curtis of Strictly Come Dancing, Hollyoaks and Love Island fame, for the brand's latest radio and social platform campaign.
Proud of its Cheshire roots, Fabulosa as part of its tongue in cheek campaign, declares that they are 'the most Fabulosa thing to come out of Cheshire', to which the dancers and their mum Debbie Pritchard who also appears, take offence and refute this.
The campaign will run across Smooth Radio during December where audiences will here Curtis and AJs mum, Debbie, furiously complaining to Fabulosa that her sons are the most Fabulosa thing to come out of Cheshire – not Fabulosa. The campaign will also feature across Fabulosa Social Media Channels, where audiences will see The Pritchards on the streets of Cheshire trying to convince the general public that their smooth moves and charm is more Fabulosa than the wonderful fragrances of Fabulosa. The campaign is titles – 'nothings more Fabulosa than Fabulosa'
Adam Burnett, Group Marketing Director at Fabulosa comments: "In the run up to Christmas, broadcast campaigns tend to be fairly predictable. Being disruptive and delivering fun and engaging content for our customers runs right through the Fabulosa DNA, so we were keen to create a campaign with stand-out.
"Debbie, AJ and Curtis were a joy to work with in the studio, and we are all now excited to hear the feedback from the Fabulosa fanbase when the ads air."
With exceptional business success since launching in 2019 and closing the latest financial year (ending 31 August 2021) with sales of £39m – a 100% year-on-year sales uplift, the brand will be closing the year on a tremendous high note. Established less than three years ago, Fabulosa has had a meteoric rise. First launching into the mature household cleaning category in 2019, Fabulosa has been rapidly taking market share. It's not only achieving more liquid volume share than all other liquid disinfectants brands, but with its unique prolific new product development (NPD) drive, the business has recently become the UK's number one privately owned brand in the entire cleaning market, by volume and value. (Kantar 52 w/e August 2021)
Fabulosa has supplied over 100 million units and launched more than 150 exciting fragrances since its launch, which are custom made by Fragrance Oils International who are owned by the world's largest perfumery and fragrance specialist Givaudan based in Geneva. Fabulosa's vast range includes Surface Care, Air Care, Laundry Care and Task Specific ranges including car care and garden care.
For more info on Fabulosa, please visit: https://myfabulosa.co.uk/